Fun, fun, fun! That's how I describe these lovely little lollipops! The dates help to hold the pops together while also standing in for much of the processed sugar. They're perfect for any party, whether you are entertaining kids or adults! Recipe contributed by Laura Theodore, from Jazzy Vegetarian Classics: Vegan Twists on American Family Favorites* © 2013 BenBella Books, reprinted by permission.
Makes 8 to 10 lollipops
Lollipops:
½ cup vegan dark chocolate chips (grain-sweetened variety works well)
6 large Medjool dates, pitted
¼ cup whole pecans
⅛ teaspoon vanilla extract
Topping:
2 tablespoons pecans, walnuts, or hazelnuts, ground (optional)
2 tablespoons dark, nondairy cocoa powder (optional)
Put the vegan chocolate chips in a double boiler over medium-low heat. When the chocolate has melted, remove from the heat. Meanwhile, put the dates, pecans, and vanilla extract in a high performance blending appliance and process to the consistency of soft dough. Transfer the date mixture to a medium bowl, pour in the melted chocolate, and stir until well-combined. Put the date mixture in the freezer for 7 to 15 minutes or until the chocolate has set enough to roll into small balls.
Line a small baking sheet with unbleached parchment paper. Spoon out a heaping tablespoon of the chocolate mixture, and quickly roll it into a ball. Roll it in one of the optional toppings until completely coated. Continue in this way, forming all of the remaining chocolate mixture into balls and coating them in one of the optional coatings.
Insert the end of a lollipop stick into each chocolate ball and place all lollipops upright in 2 separate mugs or shallow glasses, making sure they do not touch each other. Chill for 1 to 2 hours before serving. For a festive presentation, wrap each lollipop in cellophane and tie with a pretty ribbon. Stored in an airtight container, leftover lollipops will keep for up to 3 days.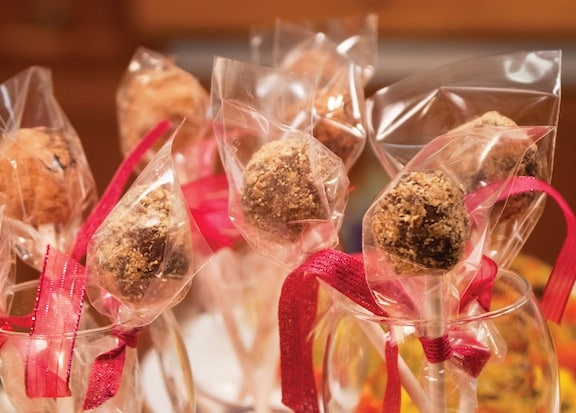 *This post contains affiliate links. If the product is purchased by linking through this review, VegKitchen receives a modest commission, which helps maintain our site and helps it to continue growing!