Chocolate is an aphrodisiac. It's romantic. It contains antioxidants. Let me cut right to the chase: the real reason I'm sharing this recipe is because it's amazingly easy. But the end result is so impressive that your sweetie is sure to be touched. Use the best dark chocolate you can get your hands on; it really makes a difference. Recipe and photo contributed by Dynise Balcavage, from Celebrate Vegan* (Lyons Press, ©2011).

Makes: 1 cup chocolate dip
1 cup best-quality dark chocolate buttons or chips (I recommend Valrhona)
2 teaspoons non-hydrogenated vegetable shortening
or vegan buttery spread 

(such as Earth Balance in both cases)

Decorations: vegan dusting sugars, sprinkles,
melted vegan white chocolate for drizzling (optional)

Things to dip:
Strawberries
Grapes
Orange slices
Apples or apple slices
Dried apricots
Dried banana chips
Crystalized ginger
Cherries
Cookies
Brownies
Raisins (Use a fork to dip)
Cranberries (Use a fork to dip)
Vegan graham crackers
Frozen bananas
Savory things:
Line a cookie sheet with wax paper or a silpat.
Melt the chocolate and shortening in a glass dish in the microwave at 50% power, or melt over a double boiler on low, until smooth and silky, stirring occasionally.
Dip your "things" of choice into the melted chocolate. Gently shake off excess. Place on waxed paper or silpat. Decorate, if desired. Let harden at room temperature or place in refrigerator to speed up cool down.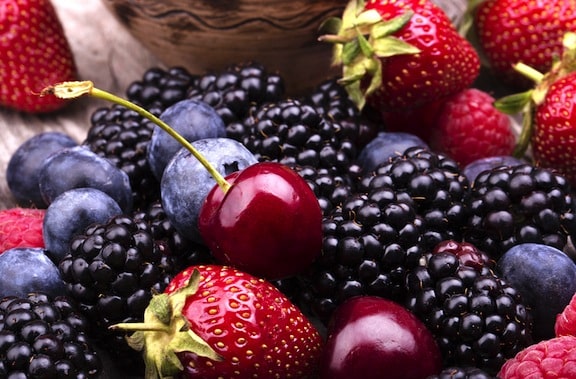 Dynise Balcavage is also the author of Urban Vegan: 250 Simple, Sumptuous Recipes from Street Cart Favorites to Haute Cuisine* and blogs at Urban Vegan.
*This post contains affiliate links. If the product is purchased by linking through this review, VegKitchen receives a modest commission, which helps maintain our site and helps it to continue growing!