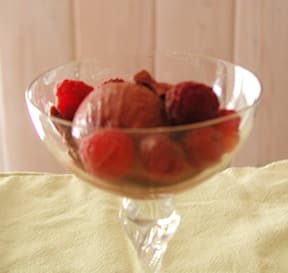 Rich dark chocolate tinged with fresh red raspberries—a wonderful flavor combination. To make this even more decadent, add a couple of tablespoons of Chambord liqueur. Recipe and photo courtesy of Cathe Olson, from Lick It! Creamy, Dreamy Vegan Ice Creams Your Mouth Will Love.*

Makes about 3 cups
1 (14-ounce) can full-fat coconut milk
½ cup plus 2 tablespoons granulated sugar
5 tablespoons unsweetened cocoa powder
2 cups raspberries
Place the coconut milk, sugar, and cocoa powder in a medium saucepan and whisk until well combined. Warm on medium-low heat until the mixture just begins to simmer and get foamy. Remove from the heat and stir in the raspberries. Let rest for 20 minutes.
Pour the mixture into a blender or food processor and process until smooth. Place a fine-mesh strainer over a medium bowl (or, to save on dishwashing, over the saucepan you used to heat the coconut milk). Pour the blended mixture into the strainer and press it through to remove the seeds. Cover and chill in the refrigerator for at least 3 hours. Then freeze in an ice cream maker according to the manufacturer's directions.
Cathe Olson is the author of Simply Natural Baby Food, The Vegetarian Mother's Cookbook,* and For more information and sample recipes, visit Cathe at Simply Natural Books.
*This post contains affiliate links. If the product is purchased by linking through this review, VegKitchen receives a modest commission, which helps maintain our site and helps it to continue growing!