I tend to add megaflavor to everything I cook, but in this dish I embrace the minimalist trend and really like the simplicity of green onions with spice, sesame, salt, and refreshing crunchy cucumber. It was inspired by something I ate a couple of years ago at Xi'an Famous Foods in Brooklyn.
A friend claimed this menu item, known as A-1, was her favorite thing ever, which I mistook for hyperbole. But I was curious. Well, after ordering it and taking one bite, I was in love and certainly wasn't prepared for a long-distance relationship with this noodle dish so I made my own version of Cold Cucumber–Chile Noodles.
Reprinted with permission from Hot for Food Vegan Comfort Classics, text and photography copyright 2018 by Lauren Toyota. Published by Ten Speed Press, an imprint of Penguin Random House LLC.

Serves: 4 to 6 servings
Prep time: 20 minutes
Cook time: 6 to 8 minutes
1 pound thick flat rice noodles

2 English cucumbers

2 green onions, white and green parts, finely sliced diagonally

2 tablespoons toasted sesame oil

2 tablespoons sesame seeds

1⁄4 to 1⁄2 teaspoon sea salt

4 tablespoons chile oil
Bring a large pot of salted water to a boil. If your rice noodles already contain salt, do not add salt to the water. Cook the noodles until al dente, approximately 6 minutes.
Meanwhile, cut the cucumber into ribbons using a vegetable peeler or slice very thin using a mandolin.
Drain the noodles, rinse under cool water, and place in a large bowl. Toss with the cucumber ribbons, green onions, sesame oil, sesame seeds (reserving 1 teaspoon for garnish), and 1⁄4 teaspoon of the salt (more to taste, if necessary). Divide among serving plates.
Drizzle each portion with 1 tablespoon of the chile oil (or use more sesame oil if you don't want spice) and garnish with the remaining sesame seeds.
You can also toss the noodles in only the sesame oil, salt, and sesame seeds, leaving the cucumber ribbons and green onions to place on top of the noodles in each serving. I think this looks prettier!
If you have leftovers, soften the noodles by heating them with a bit of water in a covered pan or heat in a microwave. Drain any excess water before serving.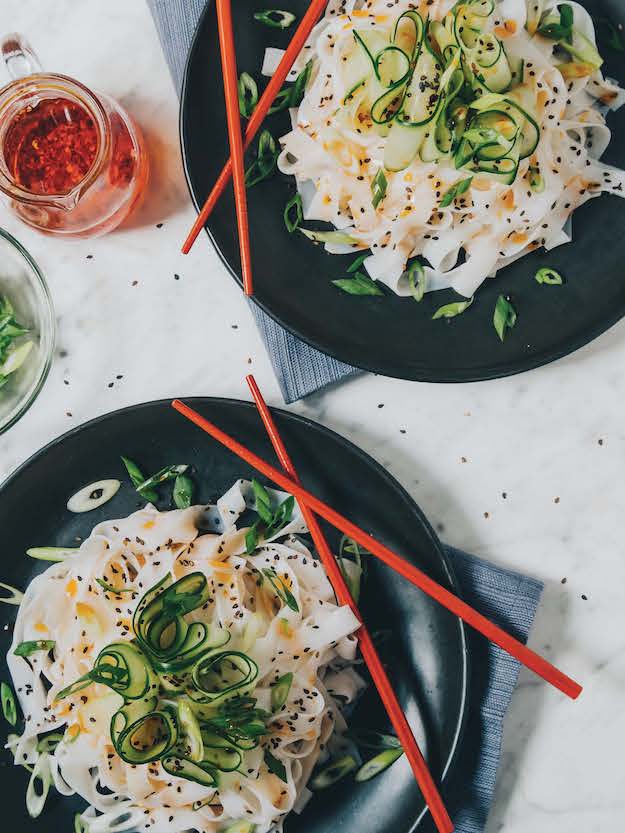 *This post contains affiliate links. If the product is purchased by linking through, VegKitchen receives a modest commission, which helps maintain our site and helps it to continue growing!