This simple cold soba noodle dish is laced with lots of kale or collard greens and flavored with a piquant ginger dressing. For an easy meal, serve with veggie spring rolls from your natural foods store's frozen foods section, and a platter of slices of baked tofu, tomatoes and cucumbers. Photos by Evan Atlas. 
Serves: 4 to 6
8-ounce package soba (buckwheat noodles)
1 good-size bunch collard greens or lacinato kale
4 scallions, white and green parts, thinly sliced

Sesame-Ginger Salad Dressing,

as desired
(use store-bought sesame-ginger dressing as a shortcut)
Reduced-sodium soy sauce, tamari, or Bragg Liquid Aminos, to taste
Dried hot red pepper flakes to taste
Cook the noodles in plenty of rapidly simmering water according to package directions.
Meanwhile, cut the leaves of the greens you're using away from the stems and rinse well. Stack several leaves at a time atop one another, then roll up snugly from the narrow end. Cut into very narrow ribbons, then cut across to shorten them.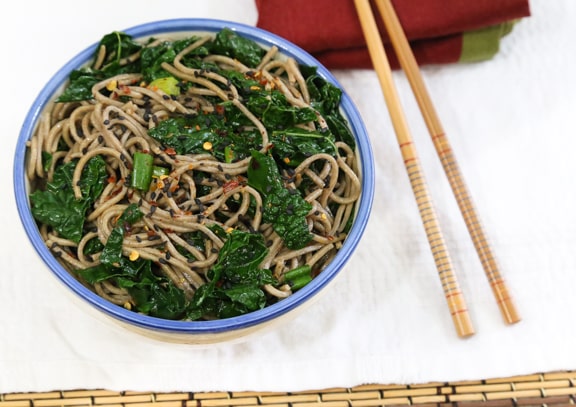 When the noodles are close to being done, plunge the greens and white parts of the scallions into the water and cook for about 3 minutes longer. The noodles should be al dente and the greens bright green and just done.
Drain and rinse until cool running water until at room temperature, then transfer to a serving bowl. Moisten as desired with the dressing. Stir in the green parts of the scallions, then season with soy sauce and pepper. Serve at room temperature.