Fall has finally arrived (at least on the calendar), so it's time to break out the soup pot and turn on the oven! This week we feature five dinner centerpieces that fit nicely into the realm of transitional meals. When you shop for the week, make sure to pick up plenty of spinach, sweet potatoes, and quinoa. Spinach and lentils often paired Indian cuisine, and in this easy Curried Pasta with Spinach and Lentils, they're given an unusual context when combined with pasta. For a delicious meal, serve with a fresh flatbread and sliced cucumbers in coconut yogurt, embellished with cilantro.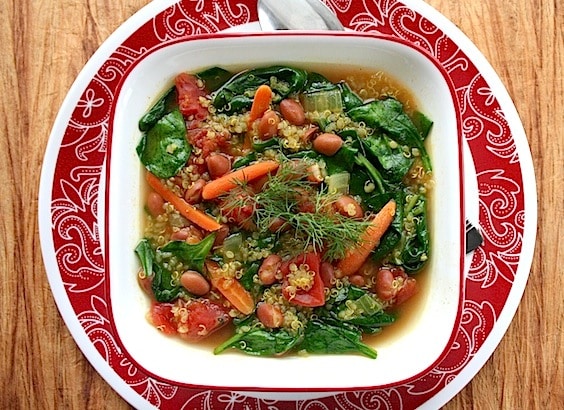 Pink Bean, Quinoa, and Spinach Soup is an appetizing, mildly spiced mélange that makes a stellar centerpiece for a soup-based meal, as it's done in 30 minutes or less. Quinoa is an excellent source of protein, making this practically a meal in a bowl. Serve with fresh bread or pita and any kind of salad.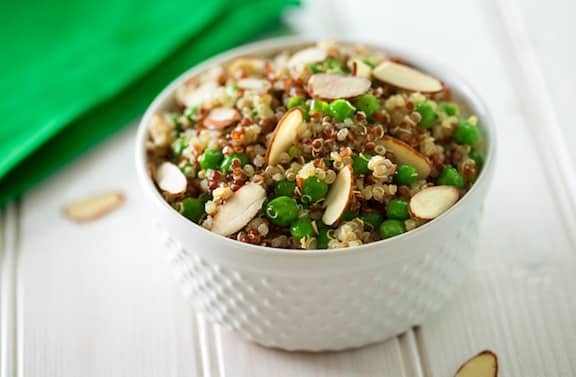 Simple Quinoa Pilaf with Peas and Almonds features lots of peas and toasted almonds combined with quinoa, adding up to a tasty and nourishing pilaf. For a nice weeknight meal, serve with Tossed Salad Wraps or with a bountiful salad of any kind, and fresh corn.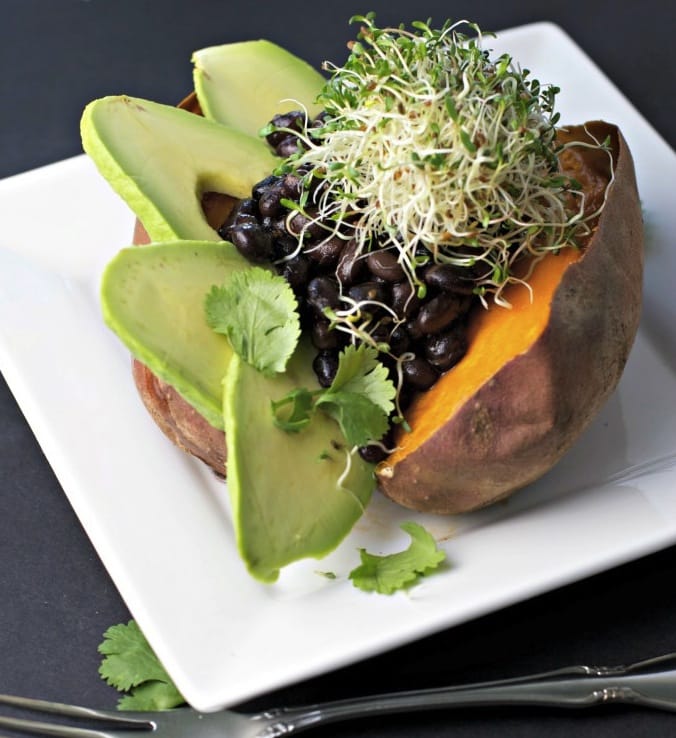 Loaded Sweet Potatoes with Chipotle Lime Tahini Sauce by Cristina Cavanaugh are flavor-packed with cumin-scented black beans, fresh sprouts, avocado and topped with a chipotle lime tahini sauce. This would go well with any of our Simple Slaws. Make extra to serve with tomorrow night's meal! Another tip — roast the sweet potatoes for tomorrow night's meal as directed in the recipe below, and your Friday night dinner will be a breeze.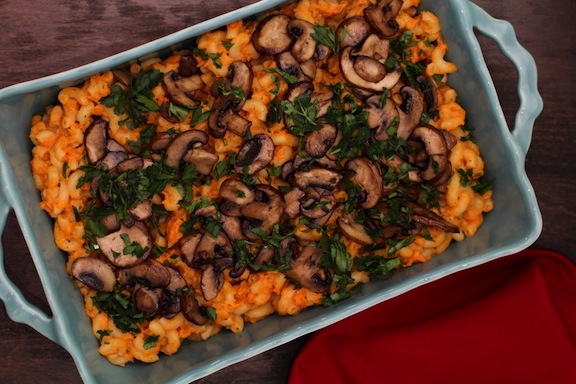 VegKitchen readers love this vegan Roasted Sweet Potato Mac n Cheese by Sophia Zergiotis. The 'cheese' in this recipe is a combination of roasted sweet potato, mustard, and nutritional yeast. The result is a nostalgic mac and cheese with a grown up edge and a rich, creamy, and satisfying dish! Delicious with any kind of slaw, and if you made extra for the previous dinner menu, you're all set!