If you want to dress seitan up just a bit, sautéing it until crisp in a golden cornmeal crust does the job nicely. Serve with Easy Mushroom Gravy or Quick Vegan Barbecue Sauce (or your favorite natural brand), green veggies, and a simple salad or slaw.
Serves: 4
¼ cup fine-ground yellow cornmeal, preferably stone ground

¾ cup boiling water

¼ cup whole wheat pastry flour

1 tablespoon nutritional yeast, optional

1 ½ teaspoon s salt-free seasoning (like Spike or Mrs. Dash)

¼ teaspoon salt

Two 8-ounce packages seitan stir-fry strips,




or 1 pound fresh seitan, cut into thin strips

2 tablespoons olive oil, or as needed
Combine the cornmeal and water in a large mixing bowl. Let stand for 1 minute, then stir. Add the flour, optional nutritional yeast, seasoning, and salt, and whisk together.
Add the seitan to the bowl, then stir to coat the seitan pieces evenly.
Heat the oil in a wide skillet. Arrange the seitan in the skillet in a single layer, if possible, or work in batches. Sauté over medium-high heat on all sides until the cornmeal turns golden brown and crusty. Serve at once.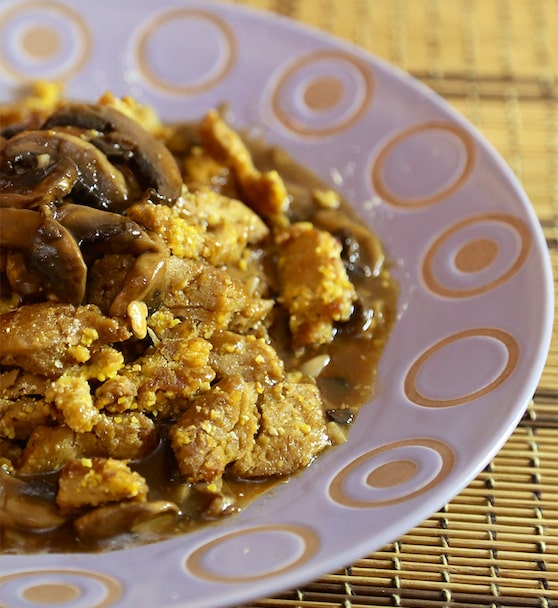 Nutrition Information: 
Per serving: 253 calories; 9g fat; 710mg sodium; 13g carbs; 9g fiber; 30g protein