Crushed pineapple is the standout ingredient in this pleasing Creole coleslaw recipe. It provides a good balance to spicy or bold dishes. My favorite dishes to serve it with are, appropriately, Vegan Jambalaya and Pasta Jambalaya.
Serves: 6
⅓ cup vegan mayonnaise, or as needed

2 tablespoons sweet pickle relish

1 teaspoon yellow mustard

1 tablespoon lemon juice

3 cups shredded green cabbage

2 cups shredded red cabbage

1 cup grated carrot (use grated carrot for ease)

1 cup finely diced pineapple (fresh or canned)

1 to 2 scallions, thinly sliced

Freshly ground pepper to taste
Combine the mayonnaise, relish, mustard, and lemon juice in a small bowl. Stir until blended.
Combine the cabbages, carrots, pineapple, and scallions in a serving bowl and toss together. Pour the dressing over the vegetables and mix well.
If you'd like a creamier slaw, add a little more mayo. Season with pepper and serve.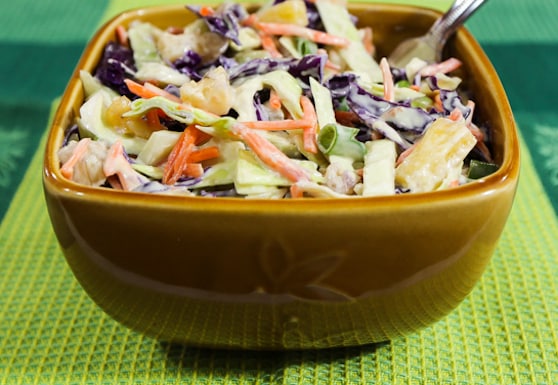 Nutrition Information:
Per serving: 87 calories; 4g fat; 215mg sodium; 13g carbs; 3g fiber; 2g protein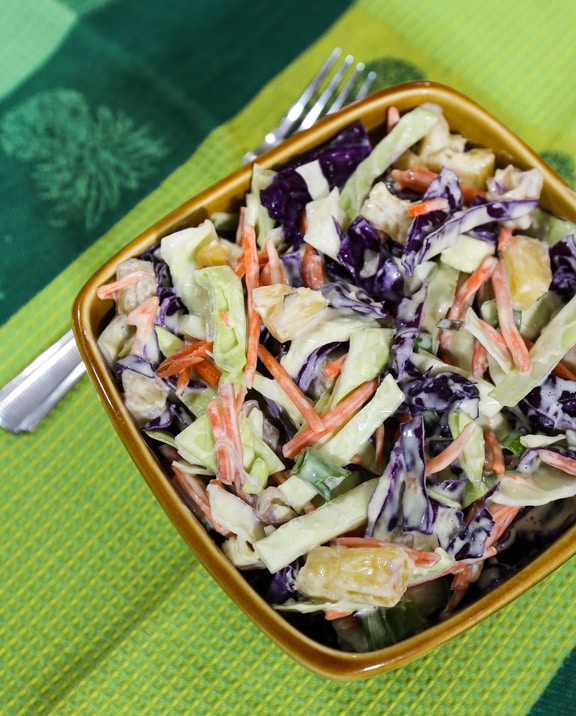 Photos: Evan Atlas