Contributed by vegan chef Beverly Lynn Bennett, these rich, no-bake treats are incredibly good. I know, because I've made them for my kids a zillion times while they were growing up, and they still love them when they visit. Easy to make, these are good for those who need a burst of sweetness and energy, without indulging in empty calories. Photos by Hannah Kaminsky of Bittersweet.

Yield: 9 to 12 pieces
½ cup brown rice syrup,
or ⅓ cup agave nectar or maple syrup
½ cup almond butter or other nut butter
of choice (see note)
1 teaspoon vanilla extract
½ teaspoon almond extract, optional
¼ teaspoon salt
2 cups crispy organic brown rice cereal
½ cup sliced almonds
½ cup vegan chocolate chips or carob chips
⅓ cup grated coconut
In a large saucepan, place the brown rice syrup and almond butter and cook over low heat while stirring until creamy and small bubbles begin to appear.
Remove the saucepan from the heat, add the vanilla, almond extract, and salt, and stir well to combine. Add the crispy rice cereal and stir well to coat the cereal thoroughly with the mixture.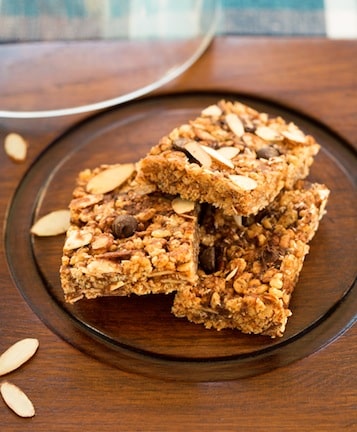 Add the remaining ingredients and fold gently to combine. Lightly oil a 9 x 9-inch square pan or line it with a piece of baking parchment cut to fit. Transfer the cereal mixture into the prepared pan. Pess the mixture firmly and evenly into the pan. Using the back of a small metal spatula is ideal for helping you do so.
Chill for 30 minutes or more or until firm, and then cut into 12 pieces. Store in an airtight container.
Note: You can substitute other nut butters such as hazelnut, cashew, or peanut. Make sure they're at room temperature and not too dense.
Contributed by Beverly Lynn Bennett, from The Vegan Chef.