Spinach potato curry is a classic combination in Indian cuisine. There's Saag Aloo, as well as Aloo Palak. Neither are particularly difficult to make, but involve numerous ingredients — mostly, the numerous spices that add up to those amazing flavors.
If your spice rack is underwhelming, or if you don't have the stamina to measure, toast, and grind the requisite spices, then do what we do here at Vegan Food Hacks — use readymade Indian simmer sauces to create amazing approximations of favorite curry flavors. For this dinner, we've also upped the nutritional ante with baby "power greens," though it will be just as good with baby spinach.
Trust me, if you've ever dumped a few spoons of curry powder into a homemade Indian-style dish, you'll be blown away by how much better it is to use one of these simmer sauces.
In this super easy and healthy dinner, the compatible flavors of greens, potatoes, and curry are transformed into stuffed potatoes, (which for the truly slothful among us, also eliminates the need to peel and dice potatoes). While the potatoes take a quick spin in the microwave, you make a refreshing salad, and the whole shebang should be on the table in less than 20 minutes.
Serves: 3
Time to table: 15 to 20 minutes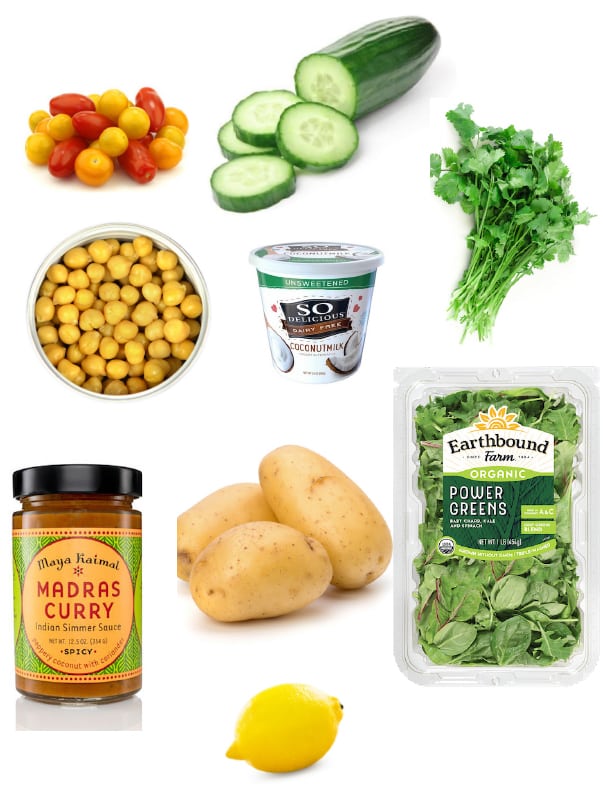 What you need
Small or medium cucumber

Pint cherry or grape tomatoes

15-ounce can chickpeas

6- to 8-ounce container plain coconut yogurt (see Note)

1 lemon

Bunch of cilantro

3 large or 4 medium-large golden potatoes (red-skinned are good too)

5- to 6-ounce package mixed "power greens" (see note) or baby spinach

Indian simmer sauce, vegan variety
Notes
In place of coconut yogurt, use your favorite creamy vegan salad dressing.

You'll find mixed baby "power greens" (not mixed salad greens) in packages where you'll find the same kind of packages or baby spinach. They contain a mixture of baby kale, chard, spinach, etc. In fact, if you can't find these power greens, use baby spinach. It will taste just as good.

Our favorite Indian simmer sauces are the vegan options from the Maya Kaimal brand; Trader Joe's has some good ones, too. They come in a variety of flavors and different heat levels.
What to do
1  Scrub the potatoes and microwave until done. They should be fairly soft, but not collapsed. Start with 2 minutes per potato, then add time as needed.
2  While the potatoes are in the microwave, make the salad. Use a whole small cucumber or half of a medium one. Either way, quarter them lengthwise, then slice. Combine with halved cherry or grape tomatoes and chickpeas in a bowl. Add enough yogurt to coat, the juice of ½ lemon (use the rest for garnish if you'd like). Stir in as much or as little chopped cilantro as you'd like.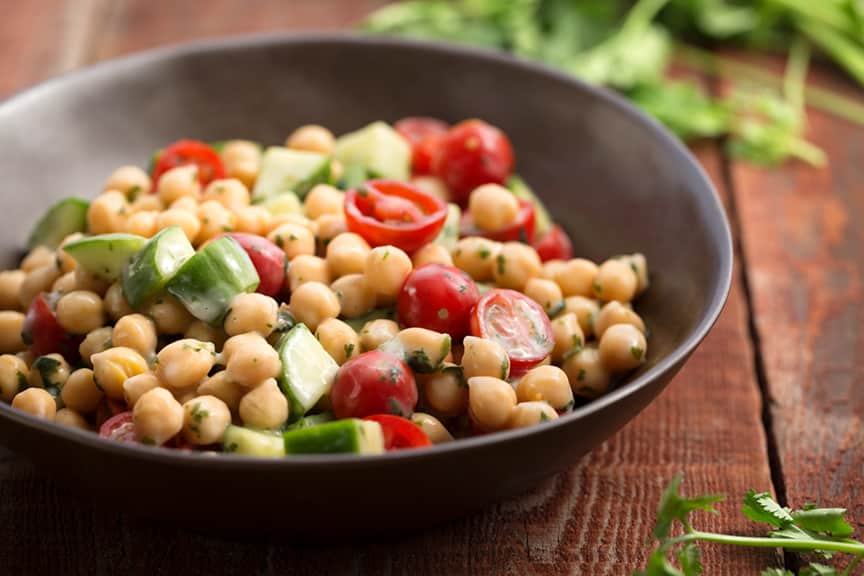 3  Rinse the greens and wilt down in a large skillet or stir-fry pan. Drain well. Return them to the pan and stir in some of the simmer sauce. You probably won't need all of it, but do be generous without drowning the greens. Heat up
4  When the potatoes are done, cut them in half lengthwise and smash lightly with a large fork.
5  Place two potato halves on each individual plate; top with curried greens. You can pass around some of the excess simmer sauce, if you'd like. Serve with salad.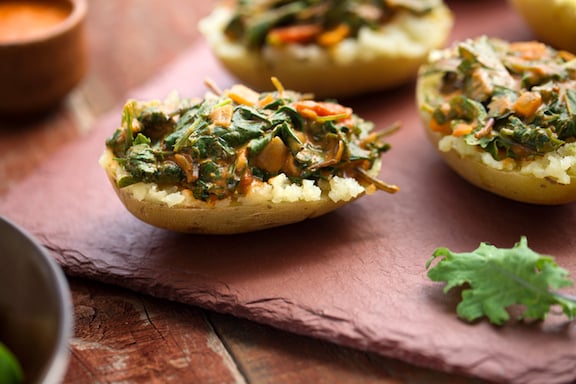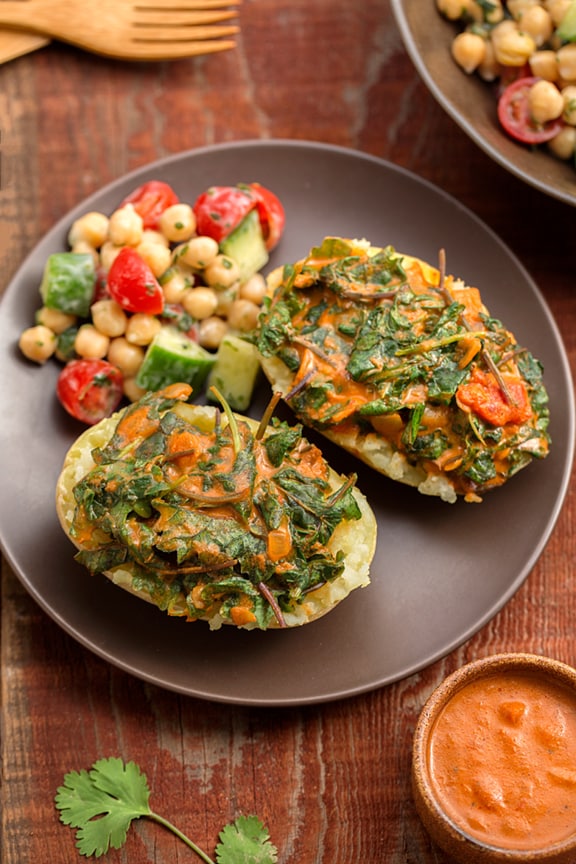 Photos: Hannah Kaminsky