This curried potato salad is a luscious combination of potatoes, lentils, and tomatoes — an offbeat change-of-pace from the standard varieties, and gets a nice protein boost from the lentils. It's hearty enough to serve as a summer main dish with fresh corn on the cob. Add a cold summer soup for a larger meal. Photos by Hannah Kaminksy.
Serves: 6
4 large or 6 medium potatoes (red-skinned or golden)
15-ounce can brown or black lentils, drained and rinsed (see note)
4 medium firm, ripe tomatoes, diced
¼ cup chopped fresh cilantro or parsley, or more to taste
2 scallions, thinly sliced
⅓ cup vegan mayonnaise, or as desired
⅔ cup (6 ounces) plain nondairy yogurt (coconut or almond)
1 to 2 teaspoons good-quality curry powder, to taste
½ teaspoon ground cumin
Salt and freshly ground pepper to taste
Cook, bake, or microwave the potatoes in their skins until tender but still firm. When cool enough to handle, dice them (leave skins on if you scrub well beforehand and if potatoes are organic.
Combine the potatoes with the lentils, tomatoes, cilantro or parsley, and scallions in a serving bowl. Toss together gently.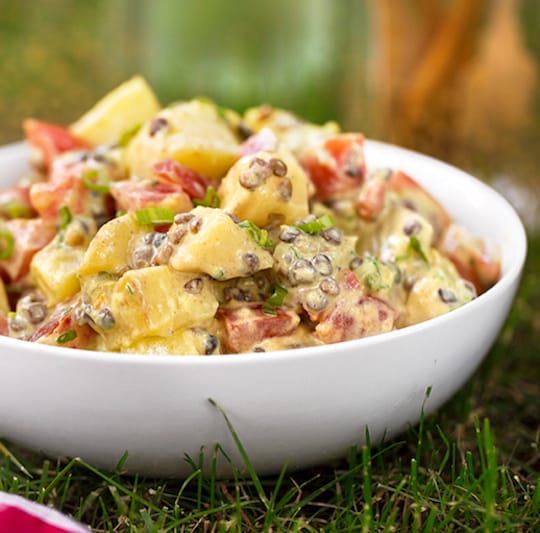 Combine the mayo, yogurt, curry, and cumin in a small bowl. Stir or whisk together until smoothly blended. Add to the potato mixture and toss gently but thoroughly.
Serve at once or cover and refrigerate until needed.