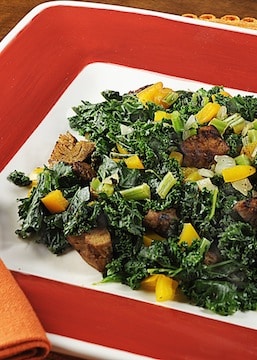 This delicious seitan dish was created by Dilip Barman, head of the Triangle Vegetarian Society in North Carolina, and host of the largest annual vegan Thanksgiving feast in the USA with over 800 attendees. For more information, see www.trianglevegsociety.org and www.dilipdinner.blogspot.com. Photographs by Linda Long from Virgin Vegan: The Meatless Guide to Pleasing Your Palate* by Linda Long, reprint permission by Gibbs Smith Publisher, 2013.

Serves: 4
Marinade:
8 ounces Seitan, cubed
1 lime, juiced
3 to 4 cloves garlic, pressed
10 leaves Fresh oregano, torn into small pieces (or dried oregano, 1 ⁄ 8 teaspoon)
Jerk Spices:
¼ to ½ teaspoon each chili powder and garlic powder
⅛ teaspoon each salt, oregano, allspice and nutmeg
Vegetables:
1 to 2 teaspoons olive oil
1 bunch kale, stems diced and leaves torn into pieces, divided
1 medium onion, diced
1 bell pepper, red or orange, diced
Combine all marinade ingredients in a bowl and allow to set 2–3 hours or overnight in the refrigerator.
Mix spices for jerk in a small bowl and set aside.
Add olive oil to large skillet and heat over medium-high heat. Drain marinade and sauté seitan in a single layer for 4–5 minutes, or until light brown on all sides. Add diced kale stems and cook about 1 minute. Add onion and sauté until caramelized. Add bell pepper and kale leaves and cook an additional 1–2 minutes. Mix in jerk seasonings, blending well.
*This post contains affiliate links. If the product is purchased by linking through this review, VegKitchen receives a modest commission, which helps maintain our site and helps it to continue growing!