This post is excerpted from Dreena Burton's Plant-Powered Kitchen. For the entire article, with lots more tips and photos, go to Vegan Children at School and Packing Plant-Powered Lunches. Here are some great ideas for lunch meals you can prepare for your children.
Wraps. Wraps are easy for the kids to eat, and can be filled with  ingredients, such as baked beans, refried beans, chickpeas, lentils and other beans, corn, chopped or grated raw veggies], whole grains, and/or  chopped leftover baked or roasted potatoes. Also, wraps are a good way to sneak in veggies they might not otherwise eat, plus other nutritional add-ins such as tahini and nutritional yeast.  Use whole-grain tortillas, nori, or – if your kids are green leafy stars – wrap fillings in kale or collard leaves.
Bean Dips – and yes, Hummus! Typically I make triple (or quadruple) batches of hummus, and freeze one or more containers. Hummus (more recipes in my books too) thaws brilliantly – just takes a little time – so give this time-saver tip a try.  Not just for dipping with pitas and  veggies, hummus can also be used in sandwiches as a spread, in wraps, as a layer on pizzas to hold veggies, or even mixed with grains such as rice or into pasta. Hummus is truly a lunch lifesaver. Make it your friend (and make it yourself; it's much cheaper and far tastier).
"PB&J".  I doubt any schools still allow peanut butter. But some allow nuts, and if not, seeds are usually permitted. So, try different nut and seed butters in sandwiches.  Since seed butters can be bitter, try adding ground cinnamon to make them naturally sweeter, and a splash of pure maple syrup. dAlso, look into organic soy nut butter spreads— there are even varieties that contain cocoa, for a special treat. Use with whole-grain breads, crisp breads, pitas, tortillas, etc.
Soups and Stews: Soups make a hearty, satisfying lunch for your kids. If you didn't get to batch-cooking on the weekend, there are some wholesome store-bought alternatives that are also timesavers. I often like to add some cooked beans or whole grains to these soups, to boost the nutritional value.  I have many hearty soups in my books.  Some kiddo faves are One While Chick Soup and Mellow Sniffle Lentil Soup from Eat, Drink, and Be Vegan,* and Tomato Lentil Soup with Cumin and Fresh Dill (doesn't sound kid-friendly, but is!) and "Kids' Cheesy Chickpea and White Beans Soup" in Let Them Eat Vegan* (and more examples to follow).
Sauce It Up!:  Kids love to dip and dunk, so send small containers with lids filled with some of their fave sauces, like tahini or other seed/nut-based sauce, tomato sauce, "KD Dip", or a homemade sauce/salad dressing, or maybe a container with nutritional yeast for sprinkling!  Our girls love nutritional yeast mixed with tahini sauce… whatever works, right?  And, our girls do not really love pasta (tomato) sauce.  But, if I add in a splash of balsamic vinegar, they enjoy it much more!  All these sauces can also be used to mix into whole grains or pasta, along with veggies/seeds/beans/tofu, etc. As I often say "a sauce makes a meal"!
Grain Bowls: Much like how most vegan restaurants have a "Buddha Bowl", you can make something similar for lunches.  This is where batch-cooking comes in handy.  Cook more grains than you need for a given meal, so you have extra stored in the fridge during the week. Start with a whole grain/pseudo-grain – quinoa, millet, brown rice, wild rice, etc – and add in fave veggies (I use frozen peas a lot – simply thaw in a bowl of boiled water, then drain and toss in) – or even fruits like chopped grapes or berries, along with any other nutrient-dense add-ins like hemp seeds, sunflower seeds, pumpkin seeds, beans, tempeh cubes, etc.  Here is where you can add some of those zippy sauces!  Pack in a sealed container with a fork/spoon – read to go!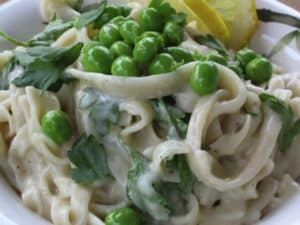 Pasta Bowls: Much of what you can do with a grain bowl works equally well for leftover pasta.  I always cook extra pasta (either whole-wheat, kamut, or brown rice), and store in a container in the fridge.  When making lunches, the pasta will be a little tough/chewy after refrigerating (especially brown rice pasta).  Simply place in a big bowl, cover with boiled water, then drain after a minute.  It will soften the pasta again, and also make it more amenable to coating with sauces/seasonings.  If find the cut shapes (rotini, penne, etc) work best for lunches, easier and neater for little ones to eat than long noodles like spaghetti.
Veggies:  If you kiddo is really picky about veggies, try grating them fine – very fine… or mincing in a mini-food processor until almost a pulp, and mixing INTO dips, spreads, nut butters, tofu or chickpea sandwich mashes, or into those grain bowls, pasta dishes, wraps, and more. Yeah, they might notice them – but they will be too tiny to pick out, and if they like the overall flavor of the dish, they will eat it.  And, if added to a pasta with other items they love (dried fruit, tamari roasted chickpeas, tofu cubes), they will more likely accept!
Breakfast Foods: Some children love to have some breakfast foods like pancakes, french toast, tofu scrambles, or "momelets" in their lunchboxes.  If you prepare a batch or two on the weekend, it can carry you over two or more lunches during the week. "Momelet"photo by Ricki Heller - Diet, Dessert and Dogs.
Savory sandwiches. If you have leftover grilled or baked tofu, pulse it through a mini-food processor and then mix in chopped veggies and condiments and use as a sandwich filling. Or simply use slices in sandwiches, with a tahini spread, hummus, or other condiment to hold the tofu in place. Chickpeas can be mashed or pureed and again mixed with veggies and condiments for a hearty sandwich filling, and one that looks not much different from the egg or tuna sandwiches other kids might be eating. Grilled cheese sandwiches are a favorite, and you can use any vegan cheese you prefer, or a nut or seed cheese in place of a commercial vegan cheese. Let cool before packing, and include a small container of ketchup for dipping. If your child is a true veggie lover, make simple sandwiches with chopped, sliced, or grated fresh veggies.  Use whole grain/sprouted breads, or whole-grain pitas or bagels.
Fruit: Fresh fruit is an obvious choice, especially easy-to-eat fruit such as grapes, strawberries, and orange segments. But others such as cubed melon, plums, kiwi wedges (the kids can eat them like an orange), and half a mango (scored) are welcome changes. Also try replacing raisins with other dried fruit such as apple slices, mango, or apricots. Choose unsulfured and organic whenever possible.
Baked Goods: I am always doing double batches of some variety of muffin, mini-muffin, healthy cookie, snack bar, etc.  I give many examples at the end of this post of recipes from my books. Coconut Banana Muffins (becoming very popular! See photo at top of post) from Let Them Eat Vegan.*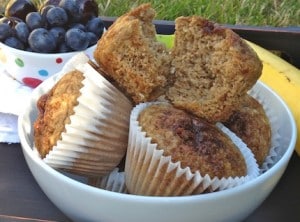 Store-bought items. Lunches and snacks are made even easier with a few prepared items: healthier granola bars, dairy-free yogurts, whole organic fruit bars, unsweetened applesauce cups, crackers, and other more natural snacks.  And, while foods like Daiya cheese, cheese spreads, and veggie dogs are more processed, there is nothing wrong with incorporating them occasionally, especially on those joyous "hot lunch" days! I particularly like the Wayfare brand of cheese spread.  It is oat-based, the ingredients are not from some science experiment, and it works really well for a sandwich/wrap spread to "hold" other ingredients when you are plum out of hummus!  (hmmm, plum hummus… plummus?)  I'll stop.
Nibbly Bites:  Kids love finger foods, so things like beans (for our kids, that means Tamari Roasted Chickpeas, Cinnamon Tortilla Strips, Softly Spiced Nuts (if nuts permitted, or you could sub seeds and dried fruit in this recipe), small bites of tofu, tempeh strips (I simply bake these in the toaster oven on a parchment-lined tray until lightly browned), or seitan, sheets of nori, seaweed snacks, raw crackers, or whole-grain/raw cereals. Kaia has a line of raw snacks, and some may be just right for your lunchboxes, like 'salt and vinegar pumpkin seeds'!
Dreena Burton is the author of Eat, Drink, and Be Vegan,* Let Them Eat Vegan,* and other books. For more of Dreena's recipes and tips, visit Plant-Powered Kitchen.
*This post contains affiliate links. If the product is purchased by linking through this review, VegKitchen receives a modest commission, which helps maintain our site and helps it to continue growing!