Summer always seems to disappear quickly, and back-to-school days find parents scrambling to get the kids ready. One thing you can check off your to-do list is finding healthy school lunch recipes.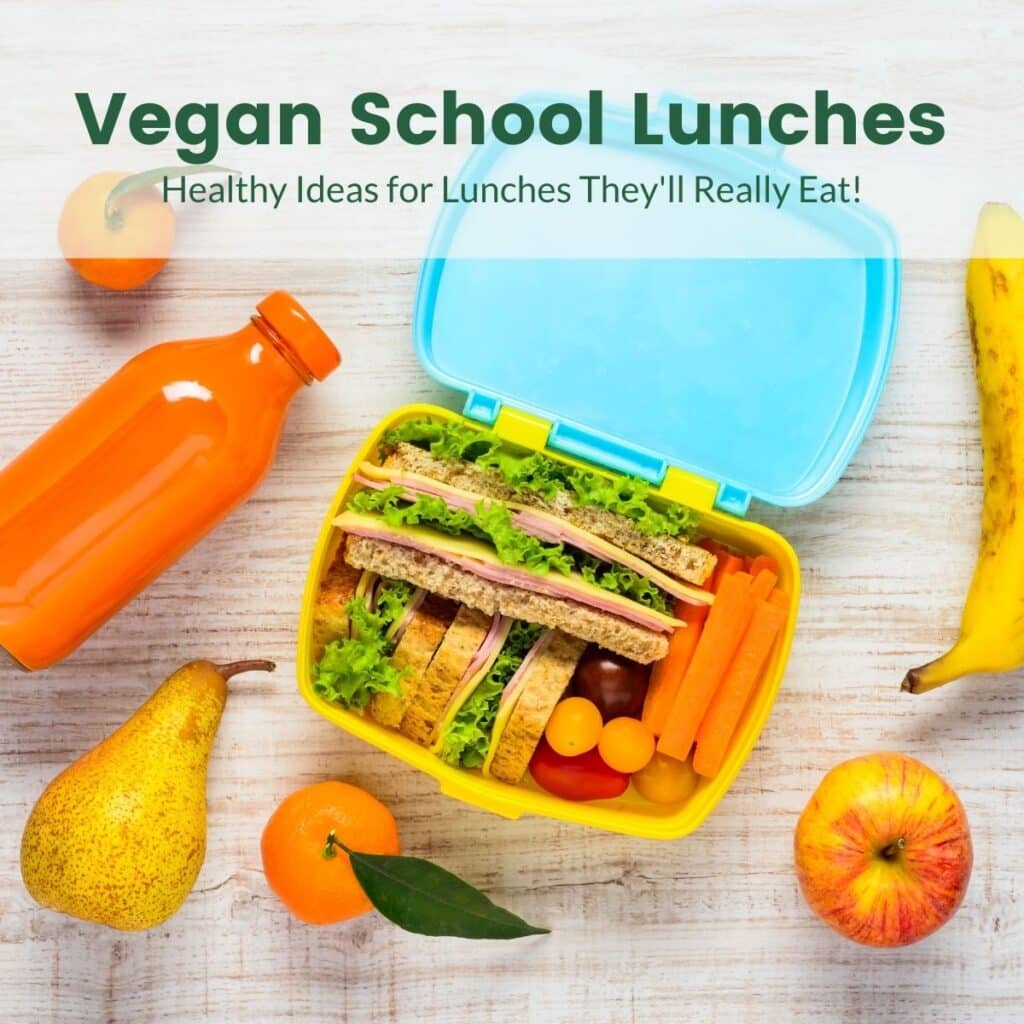 If your child is vegan or vegetarian, that adds to the challenge. Don't despair! With our handy list of recipes and ideas, creating easy, tasty school lunches will be a breeze.
And, if you like the idea of having all of our best school lunch ideas, tips, and tricks in one neat package, you may want to check out our Healthy Plant Based School Lunches E-Book.
Here are some of the tips that will keep you sane from the first day of school to the last:
1. Keep your lunch-making supplies together.
Keeping everything you need for prepping lunches in one place makes for a much more efficient morning "rush hour." In one cabinet, you can store the lunch boxes, sandwich bags, thermoses, plastic spoons and forks, toothpicks, and small plastic storage containers. I also keep packaged snacks with these supplies for easy access.
2. Stock up on cold packs.
Make sure you have plenty of freezer packs available at the start of the school year. Somehow these things never make it back into my freezer in the evening, so having spares is essential. I like these slim ones that are easy to stack together in the freezer.
3. Vary the types of bread used for sandwiches.
Bagels, rolls, pita pockets, English muffins, raisin bread, and even fresh flour tortillas or "wraps" can add interest to standard sandwich fare. Check out our sandwich and wrap recipes for ideas.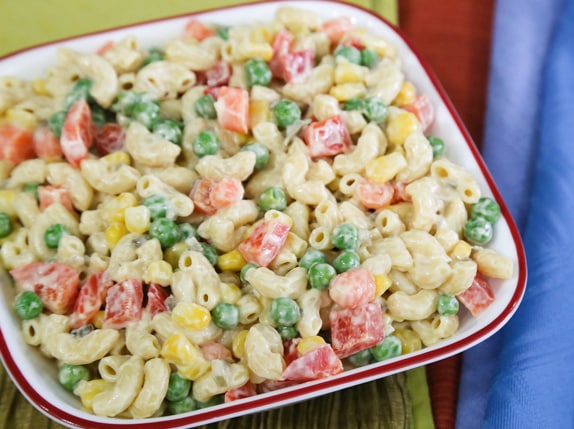 4. Consider a thermos.
Dishes that taste just as good warm or at room temperature are more successful than those that need to stay hot (but usually don't).
If your child's school has a microwave available, your thermos offerings can include macaroni and cheese, soups, and leftover casseroles.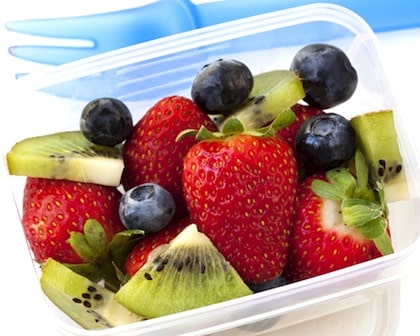 5. Make fruit appealing.
Fruit packed into lunch boxes can come home uneaten unless you try some simple tricks. Small chunks of fruit, such as strawberries, grapes, melon, tiny seedless orange sections, and such, served on a skewer (long cocktail toothpicks are perfect), are always eaten.
Similarly, apple slices are more likely to be eaten if you supply a tiny container of peanut butter to dip them into.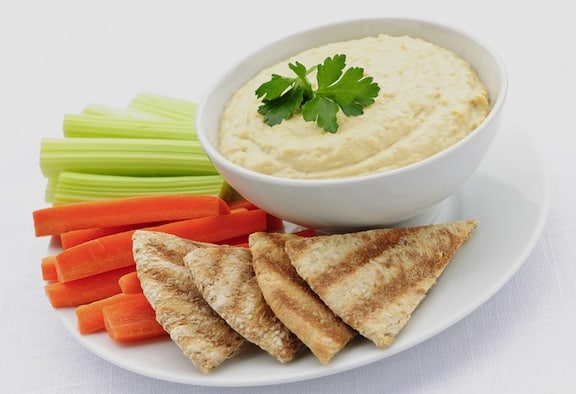 6. Raw vegetables are better with dip.
When sending carrots (or baby carrots), celery, bell peppers, etc. - cut them into strips and add a tiny container of your child's favorite dressing or dip.
Natural store-bought or homemade hummus is a great choice, as is vegan ranch dressing. Add wedges of pita bread for dipping, too.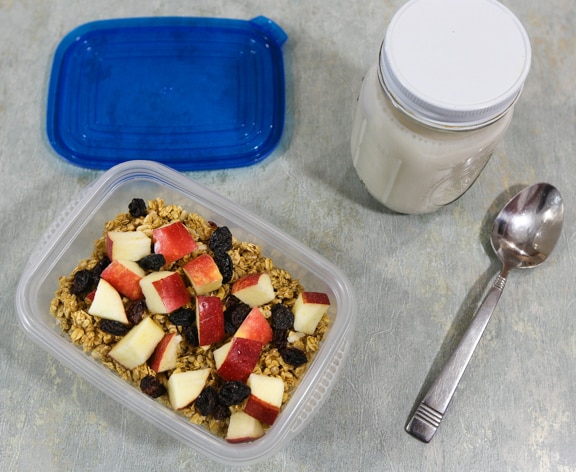 7. Cereal is an unexpected treat at lunch.
Pack some nutritious cereal in a lidded bowl-shaped container, and your child can add his or her favorite nondairy milk to it (vanilla almond milk is particularly good with cereal) when it's time to eat.
Teamed with a banana, this makes a filling meal. And it's always fun to eat breakfast at "weird" times.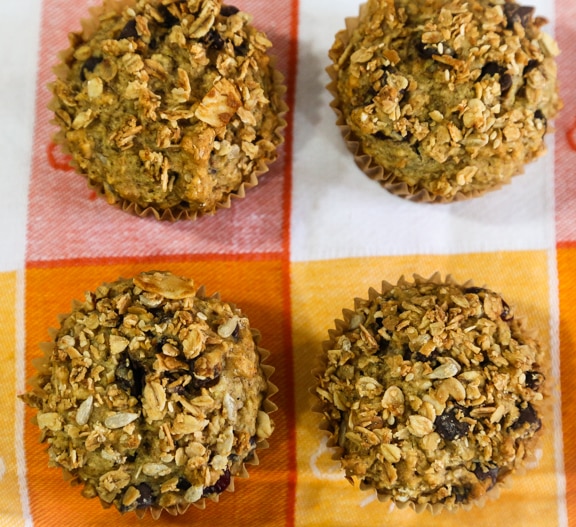 8. Make wholesome homemade muffins.
Muffins are always a crowd pleaser, and it's super easy to make tasty ones that are actually healthy too.
Check out these Chocolate Chip Banana Muffins or these Magic Vegan Muffins for starters.
Pack a wedge of vegan cheese or a container of coconut yogurt, plus fresh fruit to go along with them.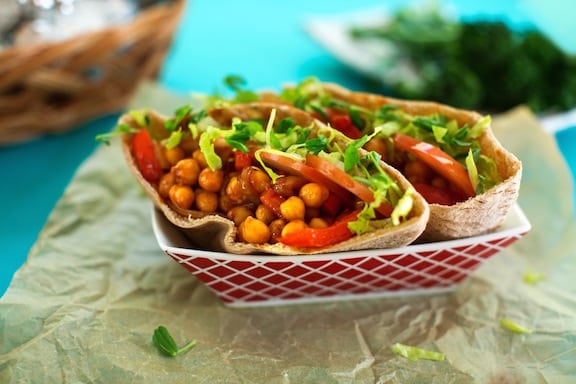 9. Salads in pita bread or in wraps appeal to kids with more adventurous palates.
Augment simple salads of lettuce, tomato, peppers, and cucumbers with chickpeas, chunks of baked tofu, chickpeas or other beans, and grated nondairy cheese.
Keep pita sandwiches fresh by wrapping them first in foil, then placing them in sandwich bags.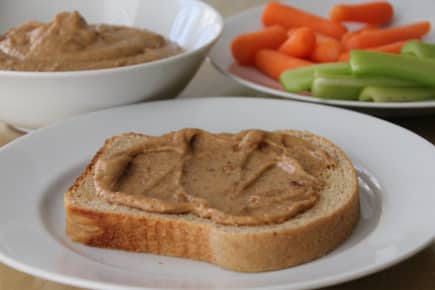 10. Expand on PB & J.
Try cashew, almond, or sunflower butters, and no-sugar added fruit spreads or apple butter for a change of pace.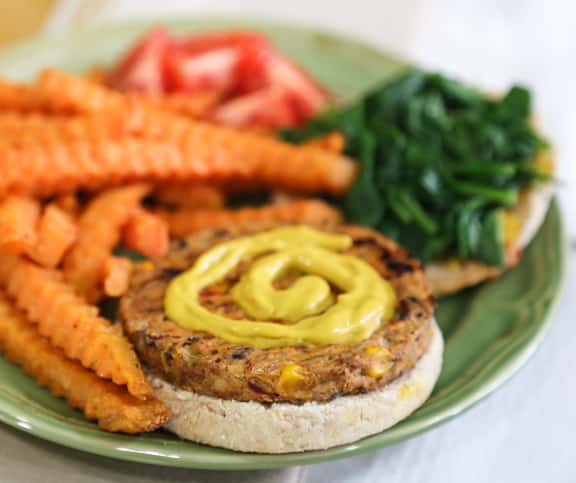 11. Pack a veggie burger.
Veggie burgers make a surprisingly good packed lunch. Serve it on a whole grain roll or English muffin, with your child's favorite condiments for a fun surprise.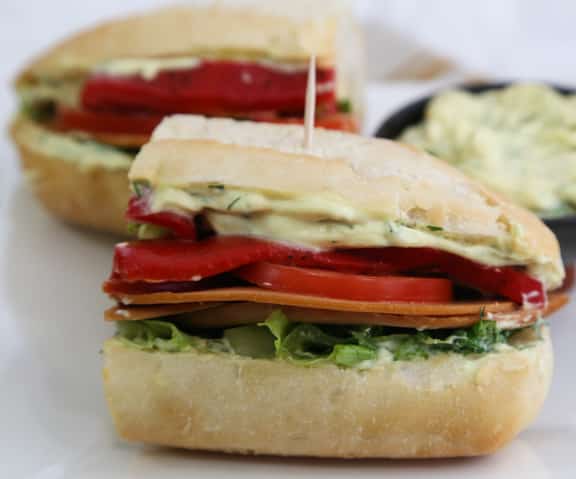 12. Faux meats can expand lunch box variety.
Vegan deli slices might especially appeal to teens. "Chicken" or "turkey"-style slices on soft whole grain bread appeal to tastes of any age.
Veggie Deli Heroes with Herb Mayonnaise are a great choice that will appeal to older kids and teens.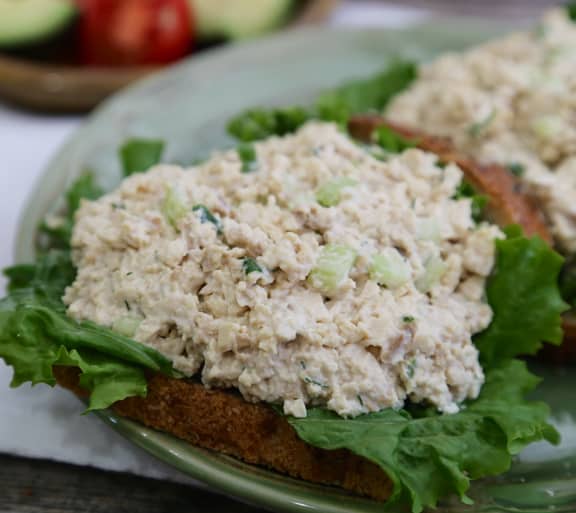 13. Vegan "Tuna"or "egg" salads.
These are delicious stuffed into pitas or in sandwiches. Check out these recipes for "Tofuna" Salad Sandwich Spread; Tofu Eggless "Egg" Salad; and Sharon's Chickpea Salad or Sandwich Spread) to get you started.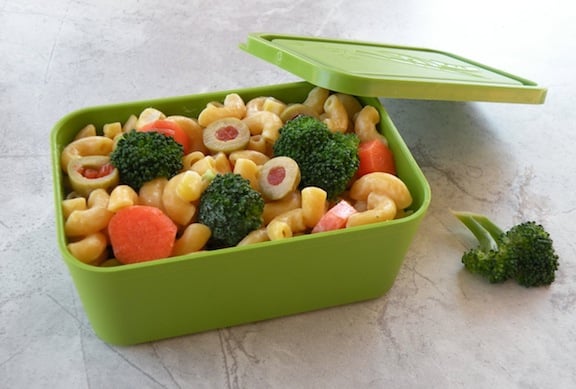 13. Pasta salad is an appealing lunch option.
Use small shapes such as elbows, wagon wheels, shells, or tiny tubes, which pack well into containers.
Add your child's favorite veggies—steamed broccoli, peas, corn and carrots, plus olives and their favorite dressing can add up to nice lunch box fare.
Check out all my favorite pasta salad recipes here.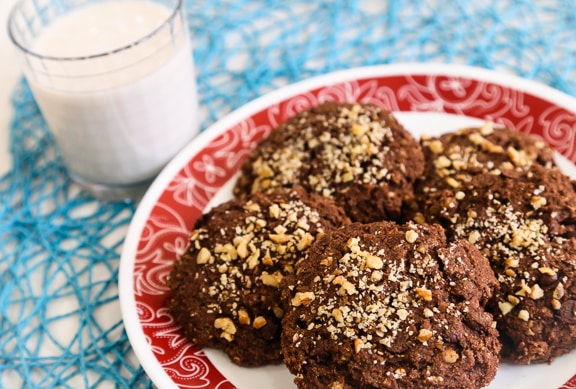 14. Wholesome homemade cookies.
Cookies make a perfect after-school snack when served with almond milk. And the next day, you can pack the extras in their lunch box. Check out these vegan cookie recipes to get baking!
SCHOOL SNACKS
Snacks packed for school, whether for snack time or as an extra treat for the lunch box, should be simple and neat.
Explore natural foods stores for packaged snack ideas. Their cookies, cereals, fruit bars, and such, are often naturally sweetened and low in fat.
Similarly, natural chips, rice puffs or crisps, and other crunchy snacks have less salt and fat than their supermarket counterparts.
Prices can sometimes (but not always) be a little higher, but you're getting more value for your money.
Here are some suggestions for school snacks:
Natural fruit leathers (or make your own fruit leather!)
Low-fat fruit and cereal bars
Granola bars
Good-quality, non-frosted toaster tarts
Dried fruit, such as apple rings or apricots
Trail mix (dried fruits with nuts and seeds)
Rice cakes or mini-rice cakes
Individual containers applesauce or fruit cup
Naturally sweetened cereal
Graham crackers
Sesame breadsticks
Fruit-sweetened cookies
Bagel crisps
Baby bananas
Small seedless oranges
More Resources
For more tips on feeding vegan and vegetarian kids, check out these resources: