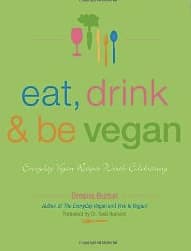 What I like most about Dreena's books, in addition to the great food photography, is that she doesn't rehash the same familiar recipes you find in a lot of other cookbooks.  Plus, while her recipes sometimes call for ingredients you may not have used before, they remain simple to prepare and even unfamiliar ingredients can be found in your local grocery store or co-op.  As with Dreena's previous books, Eat, Drink & Be Vegan: Everyday Vegan Recipes Worth Celebrating* is a wonderful collection of unique recipes that home cooks of all skill levels will enjoy.
We've had a lot of success with ED&BV around our house.  Dreena's always been known for her inventive hummus and this time around, she devoted an entire chapter to the creamy, beany vegan staple.  I loved the Black Bean & Orange Hummus — the orange adds a whole new dimension and combined with the black beans (rather than chickpeas), this one is sure to turn some heads at potlucks.  The Roasted Red Pepper and Almond Hummus is a little more familiar but is the tastiest red pepper hummus I've had.  Fresh parsley used for garnish tops it off perfectly.  Other hummuses include a white bean hummus, a peanut-sesame hummus (!), and one geared specifically for kids.
From her soups and stews section, the Mellow Lentil "Sniffle" Soup has already become a go-to dish for us and my wife and I agree that the Sweet Potato Lentil Chili may be the best homemade chili we've ever had.
The main dishes we've enjoyed include the Lemony Cashew-Basil Pesto on Pasta (we substituted cilantro with good results since basil was far out of season), the slightly lemony Quinoa Chickpea Confetti Casserole (which went over well over the Christmas holiday and is simply delicious when drizzled with the Balsamic Maple Sauce), and Sweet & Sour Chipotle Tempeh with Sweet Potatoes.  The Cran-Apple Quinoa recipe was another dish shared over the holiday ("Quinoa?  Is that how you say it?  This is good!").
This may be a first, but I haven't made any of the desserts.  I am looking forward to trying the Pumpkin Cheese Pie and the Lime Sucker Coconut Pie.
So far, there have only been a couple of recipes that haven't gone well for us, which isn't bad considering how many we've made.  The Goddess Garbanzos didn't sit well with me, but I'm also not a big fan of Annie's Goddess Dressing, which probably explains it.  The Cinnamon-Lime Quinoa with Apricots & Almonds was alright tasting, but consistency was a bit squishy for my liking.
Dreena Burton's third book, Eat, Drink & Be Vegan, solidifies her as one of my favorite cookbook authors. Her inventive recipes manage to balance innovation, accessibility, and health in a way few others can.  There's no doubt you'll want this one on your shelf if it's not there already.
This review was contributed by Ryan MacMichael, reprinted from VegBlog. Go to Amazon.com to learn more about Eat, Drink & Be Vegan: Everyday Vegan Recipes Worth Celebrating* by Dreena Burton.
*This post contains affiliate links. If the product is purchased by linking through this review, VegKitchen receives a modest commission, which helps maintain our site and helps it to continue growing!