We love healthy treats that are as tasty as candy truffles, and these dried fruit and walnut energy balls fit that description. With just a few ingredients, they're super easy to make, too. Did you you know that walnuts are just about the best source of omega 3 fatty acids? This beneficial fat is hard to come by in plant-based foods, and walnuts are the only nut that contains ALA, or alpha-linolenic acid. Eating 3 or 4 of these will give you just about your total daily requirement.
Though the maca powder in these is optional, it's highly recommended — it's another way to get an energy boost and enjoy its other health benefits.
Makes: 12 to 14
1 cup chopped soft dried apricots (unsulphured) or pitted dates

1 heaping cup walnut pieces

2 tablespoons cocoa or cacao powder

2 to 3 tablespoons maca powder, optional

1 to 2 tablespoons maple syrup, to taste

A few grindings of coarse salt, optional (but highly recommended)
If the dried fruit isn't nice and soft, soak it in very hot water for a few minutes, then drain.
Put the walnuts in a food processor fitted with the metal blade and pulse on and off until finely chopped.
Add the dried fruit, cocoa, optional maca powder, and 1 tablespoon of the syrup. Process, stopping the machine to scrape down from time to time if needed, until the mixture holds together as a mass, but don't over-process. You want to leave a bit of texture.
Taste to see if you'd like it to be sweeter, and if so, add a little more syrup. Grind in some course salt if you'd like — this really gives it a zippy flavor — and pulse on and off a few more times.
Shape into balls not more than an inch in diameter. Arrange on a parchment or wax paper-lined plate and refrigerate for an hour or so, then enjoy!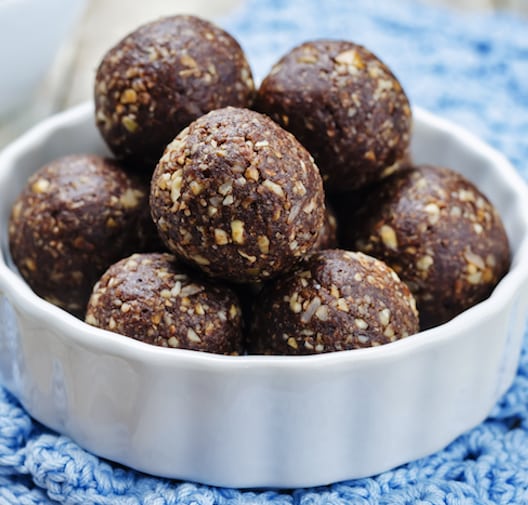 Photos: Arzamasova / Shutterstock