Dear summer: You've been really lovely, and have gone by incredibly quickly, as all summers before you have done. But it IS September, and it's still really hot most everywhere. It would be nice to enjoy some warming soups and stews, and make all kinds of baked goods and such with the apples that are abundant at the moment. So could you please go away for now, and let fall begin? Signed — Looking Forward to Fall.
If you're like me, you're looking forward to a bit of nip in the air and change-of-season foods. But even here in the Northeast where I live, summer isn't letting go. For now, here are five recipes that will help your kitchen stay cool, yet which give a hint of autumnal flavors.
Let's start with Chickpea-Waldorf Salad by Jennifer Strohmeyer, shown above. It's a light way to end your holiday weekend. The addition of chickpeas and tart cranberries makes the traditional salad even more delectable and hearty enough to be a centerpiece. Serve with a simple potato or sweet potato dish and a fruity dessert. Leftovers are great to pack up for the next day's portable lunch.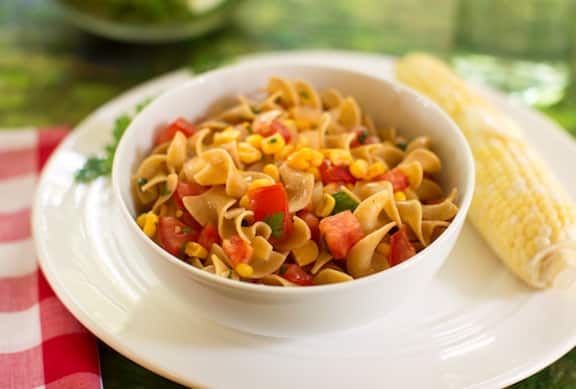 Pennsylvania Dutch Corn Noodles is a simple, tasty pasta dish traditional to the "plain and simple" Pennsylvania Dutch cuisine. It's a perfect way to use fresh summer corn and tomatoes while they're still flavorful and abundant. Serve with wilted greens and a cool bean salad.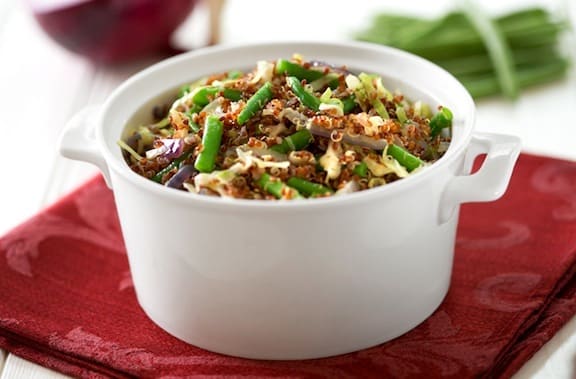 Quinoa with Cabbage and Green Beans offers an easy way to highlight super-nutritious quinoa. Serve with a simple bean dish (perhaps left over from Monday or Tuesday) and a colorful salad or an easygoing meal. Tip — cook some extra quinoa for tomorrow night's meal!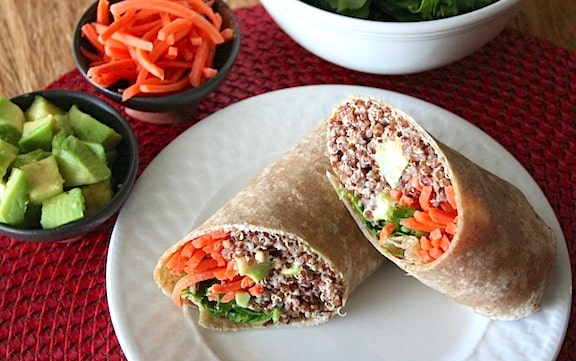 Once you have cooked quinoa on hand (perhaps from last night's tip to cook extra!), Wendy Polisi's delectable Asian-Flavored Quinoa Wraps come together quickly. Fresh corn on the cob and/or a no-cook cold soup are perfect companions.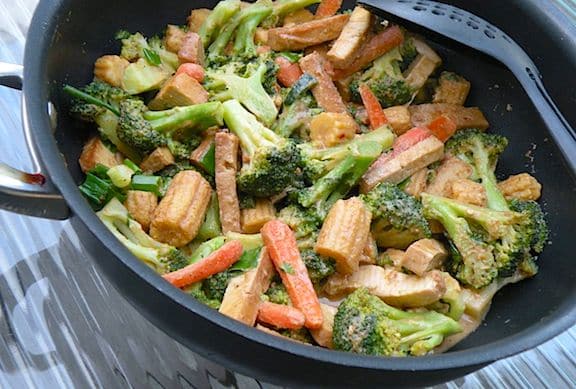 To end the week, instead of ordering take-out, make this easy Thai-Flavored Tofu and Broccoli stir-fry at home. It requires a minimum amount of cooking and is delicious over grains or noodles. Serve with a platter of bell pepper strips, sliced cucumbers, and cherry tomatoes. End with a platter of summer fruit and nondairy ice cream.