I'm not sure who invented that Buffalo wings combo that contrasts spicy BBQ flavors with celery and creamy dressing. It's kind of weird, but obviously there's something about it that people love, because there are hundreds of vegan variations, let alone thousands of the non-vegan variety. In plant-based versions, cauliflower or tofu stand in for "wings." However, even in the ones labeled "simple" or "easy" there are usually between 15 and 20 ingredients.
In ours, the easiest Buffalo tofu bites ever, we use Nasoya's chipotle flavored baked tofu. It has a great flavor and texture for this so-called recipe. Full-fledged lazy and full flavor become perfect partners. You can even find precut celery (or celery and carrot) sticks in the produce section of your supermarket. They cater to slackers like us these days.
This is a fantastic appetizer for group sport-watching events, or really any company gatherings that call for a hearty and truly easy appetizer.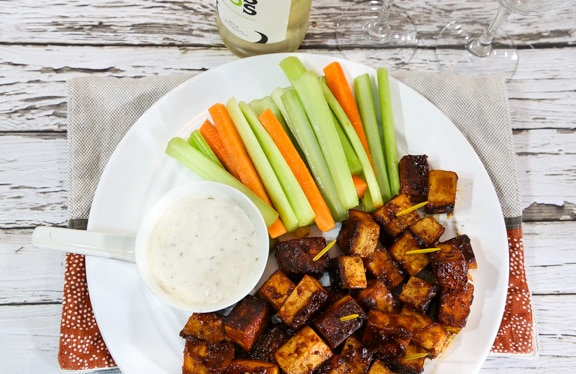 Serves: 6 to 8
Time to table: 20 minutes
What you need
Tofu bites
Two 5-ounce packages Nasoya chipotle-flavored baked tofu

1 tablespoon olive oil

½ cup barbecue sauce, or as needed

Sriracha or other hot sauce to taste
Creamy dressing
Any readymade creamy dressing like vegan ranch (see Note;
or make our truly easy Vegan Ranch Dressing)
To serve
1 package or container precut fresh celery sticks (or a combo of precut celery and carrot sticks)
What to do
1  Cut each of the little squares of the tofu into 6 equal sections; they'll not-quite-square cubes.
2  Heat the oil in a skillet. Add the tofu cubes and cook over medium-high heat until golden and starting to turn crusty, stirring often about 10 minutes.
3  Remove from the heat momentarily (to avoid a great splatter) and stir in the barbecue sauce. Lower the heat, return the skillet to the heat and cook for another few minutes or until the sauce clings to the tofu. Add more sauce if you'd like, and season to taste with hot sauce.
4  Pour the creamy dressing into a small container for serving.
5  Arrange the tofu bites, celery (and carrot, if using) sticks and dressing on a serving platter and dig in!
Note: Admittedly, it's not always easy to find a vegan ranch dressing. Another simple option is to use vegan mayo (our favorite is Vegenaise); thin with a little water or nondairy milk and season with an all-purpose or Italian herb blend)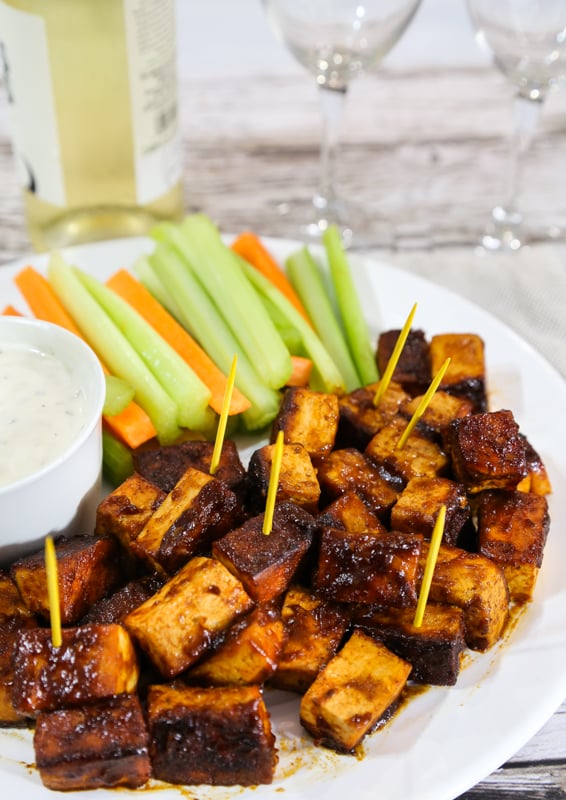 Photos: Evan Atlas