This recipe is great for a family breakfast or a small get together. Recipe from The Complete Idiot's Guide® to Gluten-Free Vegan Cooking* by Julieanna Hever, M.S., R.D., CPT, and Beverly Lynn Bennett (Alpha Books, 2011). Shown here using Ener-G Light Brown Rice Bread. Photos by Rachael Braun.
Makes: 8 slices
1 ½ cups vanilla almond milk, soy milk, or other nondairy milk
3 tablespoon chickpea (garbanzo bean) flour
1 ½ tablespoon cornstarch or arrowroot
1 ½ tablespoon nutritional yeast flakes
1 tablespoon maple syrup or sorghum syrup
2 teaspoon alcohol-free vanilla extract or 1 tsp. raw vanilla bean powder
1 teaspoon ground cinnamon
8 slices gluten-free bread
In a large, shallow casserole dish or pie pan, combine the nondairy milk, chickpea flour, cornstarch, nutritional yeast flakes, maple syrup, vanilla extract, and cinnamon, and whisk well.
Place 4 bread slices into almond milk mixture, flip slices over to coat other side, and leave to soak for 2 minutes. Lightly oil a large, nonstick skillet, and place over medium heat. (Or use a griddle.)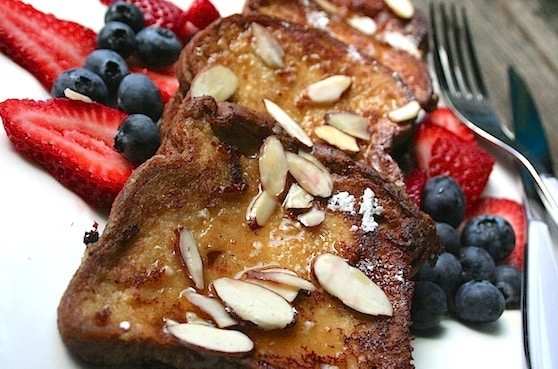 Using a fork, carefully remove bread slices from the nondairy milk mixture, and place them into the hot skillet. Cook bread slices for 1 or 2 minutes or until golden brown on the bottom.
Flip over bread with a spatula, and cook for 1 or 2 more minutes or until golden brown on the other side. While first batch cooks, repeat soaking procedure for remaining 4 slices of bread.
Lightly oil the skillet again, and repeat procedure for remaining bread slices. Serve hot with maple syrup, sorghum syrup, or other toppings of choice.
Variation: For added flavor, add 1 teaspoon finely grated orange zest and ¼ teaspoon freshly grated nutmeg to the nondairy milk mixture.
Visit Beverly Bennett at The Vegan Chef, and Julieanna Hever at The Plant-Based Dietician.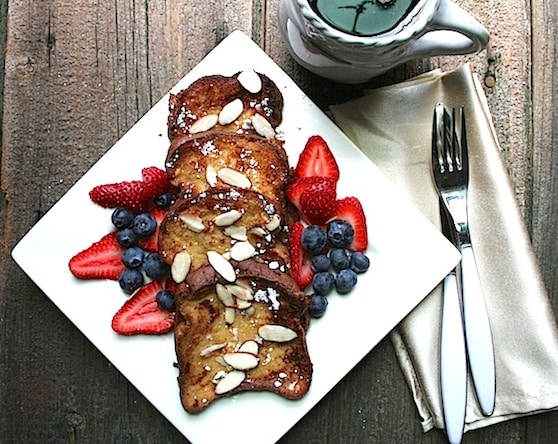 *This post contains affiliate links. If the product is purchased by linking through this review, VegKitchen receives a modest commission, which helps maintain our site and helps it to continue growing!