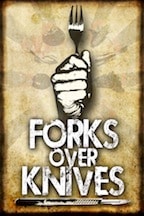 When the documentary film Forks Over Knives* premiered in New York City this past spring, I was honored to be invited to speak on a post-screening panel. Now this important film about how plant-based diets can prevent as well as reverse disease is available on DVD. The "stars" of this film are Dr. Caldwell Esselstyn, known for encouraging former President Bill Clinton to adopt a vegan diet, and. Dr. T. Colin Campbell, author of the groundbreaking book The China Study.For anyone interested in how a vegan diet can reverse heart disease and other life-threatening illnesses, this is a must see film. Here's a description from its producers:
Two out of every three Americans are overweight. Cases of diabetes are exploding, especially amongst our younger population. About half of us are taking at least one prescription drug. Major medical operations have become routine, helping to drive health care costs to astronomical levels. Heart disease, cancer and stroke are the country's three leading causes of death, even though billions are spent each year to "battle" these very conditions. Millions suffer from a host of other degenerative diseases. Could it be there's a single solution to all of these problems? A solution so comprehensive but so straightforward, that it's mind-boggling that more of us haven't taken it seriously?
Forks Over Knives examines the profound claim that most, if not all, of the degenerative diseases that afflict us can be controlled, or even reversed, by rejecting animal-based and processed foods. The major storyline in the film traces the personal journeys of a pair of pioneering researchers, Dr. T. Colin Campbell and Dr. Caldwell Esselstyn.
Dr. Campbell, a nutritional scientist at Cornell University, was concerned in the late 1960′s with producing "high quality" animal protein to bring to the poor and malnourished areas of the third world. While in the Philippines, he made a life-changing discovery: the country's wealthier children, who were consuming relatively high amounts of animal-based foods, were much more likely to get liver cancer. Dr. Esselstyn, a top surgeon and head of the Breast Cancer Task Force at the world-renowned Cleveland Clinic, found that many of the diseases he routinely treated were virtually unknown in parts of the world where animal-based foods were rarely consumed.
The idea of food as medicine is put to the test. Throughout the film, cameras follow "reality patients" who have chronic conditions from heart disease to diabetes. Doctors teach these patients how to adopt a whole foods plant-based diet as the primary approach to treat their ailments – while the challenges and triumphs of their journeys are revealed.
Forks Over Knives is available wherever DVDs are sold, including Amazon.com, where it's sold in DVD format, Blu-Ray, as well as a print book also titled Forks Over Knives,* edited by Gene Stone, with forewords by both Drs. Esselstyn and Campbell.
*This post contains affiliate links. If the product is purchased by linking through this review, VegKitchen receives a modest commission, which helps maintain our site and helps it to continue growing!