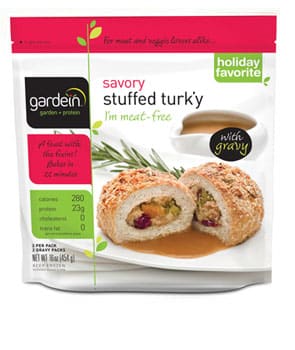 Full disclosure: I'm not personally a big fan of meat substitutes, but I can fully understand why other vegetarians and vegans like them. I grew up with meat as a child, and one of the reasons I went vegetarian as a teen way back when was that I simply didn't like it. Fast forward to my own kids, who have never tasted meat, and they really enjoy meat substitutes. I'm sure it's the satisfying texture and heartiness that appeal to them, as they have nothing to compare the taste with.
Thanksgiving and other holidays are so much about comfort and nostalgia. So even though they're not my thing, I can understand why turkey substitutes have become so popular. Especially in families that have a lone vegetarian or vegan and are faced with the "OMG! What will I make!" dilemma, they can be a handy solution. As the subject came up in a talk I recently gave on veganizing Thanksgiving, it seemed that most people shared my sentiments— we'd rather have stuffed squash or other alternative main dishes if at all possible, but the meatless turkey substitutes can be helpful in a pinch and are certainly preferable to the real thing — those hapless turkeys, bred in captivity and stuffed with hormones and antibiotics to speed their growth at a crazy pace.
Gardein recently sent me their Savory Stuffed Turk'y to sample. It really doesn't try to look like a dead bird, and in fact reminded me more of a savory pastry, as each one-person serving is very compact. These come with a savory gravy which adds a lovely flavor element. I had guests over as well as my grown kids and we all agreed that it was delicious. It's not the kind of thing you'd want to eat every day (well, maybe my sons would ...), but for a special occasion, those who gravitate to this kind of flavor and texture experience may be delighted. It is neither soy-free nor gluten-free, so if you have those restrictions, this product is not for you.
There are other brands of meatless turkey substitutes to explore, the most well known of which is Tofurky brand, but I can't speak for it since at the one Thanksgiving where I saw it being served, the younger crowd devoured it while I busied myself with a stuffed squash! To find out more about the Gardein brand, and where to buy it, visit their Thanksgiving page, which also features delicious recipes by renowned vegan chef Tal Ronnen.
Thanks to Gardein for providing this product sample for my family and friends to try.