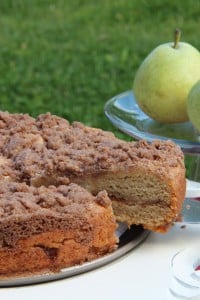 As a baker, I am reluctant to let go of certain sacrosanct ingredients. Eggs are one of those precious commodities. Then a colleague who is gluten and egg-free asked me if I could convert a coffee cake recipe so she could enjoy, too. I recalled that, back in the days when I owned the Gluten-Free Pantry, I had made many recipes where I replaced eggs with silken tofu, flax gel (1 tablespoon flax meal with 3 tablespoons of hot water) or even with applesauce. I dug out my favorite coffee cake recipe, already gluten-free, and went to work. The results are delicious. Recipe and photo contributed by Beth Hillson, author of Gluten-Free Makeovers.*
This stunning coffee cake uses soy (or coconut) yogurt and pear puree. The yogurt adds back some of the protein from the eggs and the pear puree, like applesauce, contains pectin which tenderizes the cake.  I added a little bit more baking powder to help it rise, usually another job done by the eggs. This is comfort food at its best and begs for a cup of coffee or tea. I also like to make this with apples and applesauce.
Yield: One 9-inch round cake
1 cup sugar

1 ½  cups All-purpose Gluten-Free Flour Blend

½ cup sorghum flour
2 teaspoons xanthan gum*
½ teaspoon salt*
2 teaspoons baking powder

1 teaspoon baking soda

1½ cups soy or coconut yogurt (flavored yogurt works well)

6 tablespoons vegetable oil

4 tablespoons pureed baby pear puree or unsweetened applesauce

½ cup peeled and chopped ripe Bartlett, Bosc or red pears, or diced canned pears
Crumble Topping (below)
Preheat the oven to 325°F and lightly oil a 9-inch springform pan.
Combine the sugar, flour blend, sorghum flour, xanthan gum, salt, baking powder, and baking soda in a large bowl. Set aside.
Combine the yogurt, vegetable oil, and pear puree in a mixing bowl and beat until smooth. Add the dry ingredients and beat until smooth.  Fold in chopped fruit.
Spoon half the batter over the bottom of the prepared pan and smooth to the edges of the pan.  Cover with half of the crumb mixture. Spoon the remaining batter over the crumb topping and smooth to the edges. Sprinkle the remaining topping over the top.
Bake 50 to 55 minutes, until cake tester comes out clean and center springs back when gently touched. Cool 10 minutes in the pan. Remove the rim of the pan and cool completely on a wire rack. Serve.
*If your all-purpose blend contains salt and gum, omit the salt and reduce the gum to ½ teaspoon.
Crumble Topping
½ cup rice flour
½ cup packed brown sugar
2 teaspoons ground cinnamon
¼ teaspoon ground allspice
⅛ teaspoon ground cloves
¼ teaspoon salt
4 tablespoons non-dairy buttery spread, at room temperature
Combine the flour, brown sugar, cinnamon, allspice, cloves, and salt in a large bowl. Mix well. Add the butter and use fingertips or a fork to mix just until crumbly.
This can be made ahead and stored in the refrigerator for up to 2 weeks.
Beth Hillson is the author of Gluten-Free Makeovers.* Visit her blog for more recipes and insights on gluten-free living.
*This post contains affiliate links. If the product is purchased by linking through this review, VegKitchen receives a modest commission, which helps maintain our site and helps it to continue growing!