Great as leafy greens are, there are times when they can be overwhelming. If you buy your greens in those neat, manageable bundles at the supermarket or natural foods store, no problem. Those can be used up in a flash. But if you belong to a CSA (Community Supported Agriculture) farm, grow greens in your own garden, or become overly zealous at the farmer's market, you might occasionally find yourself with too much of a good thing.
Three summers ago, before the rabbits and groundhogs discovered my husband's garden, we had a veritable explosion of chard. Not knowing enough ways to deal with it (not only with the fresh leaves, but even the ones I'd cooked down) was what what led me to write Wild About Greens.* Learning how to prepare greens for freezing (lovely to pull out of the freezer in mid-winter if done properly!), or preparing them in ways that make them disappear quickly (like kale chips) go far to resolve the pleasant problem of overabundance. But what about those times when even green leafies that have been drastically cooked down linger on as leftovers?
A big batch of greens of almost any sort (kale, collards, escarole, broccoli rabe, spinach, arugula, chard, etc.) prepared in even the simplest of ways — lightly sautéed with garlic in olive oil, for example, or just lightly steamed, can add not only an array of nutrients, but some snazzy color to any plate. The next day, however, leftover cooked greens can become dull — both in terms of flavor and color. Cooked greens shouldn't linger long in the fridge, so I have three preferred ways to deal with them: Pesto, pureed soup, or dip.
Pesto: This nontraditional take on pesto — Spinach and or Arugula and Miso Pesto — uses raw spinach and/or arugula, but go ahead and use any lightly cooked or wilted greens you're looking to use up. The fresh basil will perk up the green color. Use this boldly flavored pesto in any of the ways suggested in the linked post. My favorite is to toss it with raw zucchini "noodles" as shown in this photo.
Soup: Some years ago, when I wrote the newsletter for the CSA farm my family belonged to, I actually invented something called "CSA Soup." Start with a generous sauté of onion and garlic, then pour in a 32-ounce carton of vegetable stock and bring to a simmer. Throw in any combination of lightly cooked leftover greens (or you can start with raw greens, of course) — be generous with the quantity. In the case of pre-cooked leftover greens, cook just until heated through; if you're starting with raw greens, cook until they're just tender.
The amount of time will vary according to what kind of green you're using, of course. Stir in some chopped fresh herbs and other seasonings (including salt and pepper) to your taste, and either puree in a blender or insert an immersion blender into the soup pot to puree.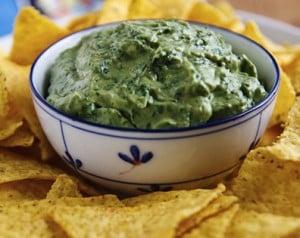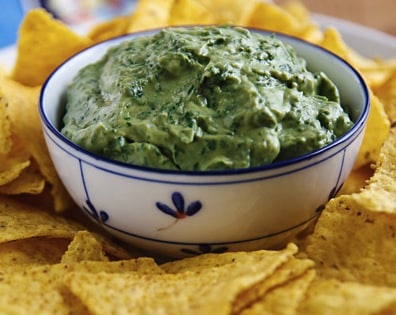 Dip: An amazing amount of leftover greens can go into making a delicious dip. Very Green Avocado Tahini Dip starts with 6 ounces of very lightly wilted spinach and/or arugula, but use whatever kind of greens on hand that need using up. Since this is a dip, you don't want to use a crazy amount, but you can certainly pack 1 to 1 ½ cups of lightly cooked or wilted greens into the mix. The tahini and lemon juice will brighten the tired flavor of leftover greens, and the avocado and fresh herbs will perk up the color.
Finishing up your leafy greens when they're freshly made is ideal, but leftover greens from the day before can be a treat. After all, they've already been washed, stemmed and chopped, leaving you the pleasant task of creatively repurposing them!
*This post contains affiliate links. If the product is purchased by linking through this review, VegKitchen receives a modest commission, which helps maintain our site and helps it to continue growing!