This simple recipe for chard with pinto beans is inspired by a Native American recipe made with wild greens. It's an excellent way to use up big bunches of chard when it's in peak season. You can use any variety of chard — green, Swiss, rainbow — our favorite is the latter. You can substitute other greens in whole or in part, too — kale, collards, spinach, mustard greens, etc. Try this side with tortilla dishes that don't themselves contain beans, like vegan quesadillas.
Serves: 4 to 6
10- to 12-ounce bunch chard (any variety)
2 tablespoons extra-virgin olive oil
3 cloves garlic, minced, or more, to taste
3 scallions, white and green parts, finely chopped
15-to 16-ounce can pinto beans, drained and rinsed
1 tablespoon lemon juice or apple cider vinegar
½ teaspoon ground cumin
Dried hot red pepper flakes
Salt and freshly ground pepper
Cut the chard into 2- to 3-inch ribbons (you can keep stems on) and wash well.
Heat the oil in a large skillet or stir-fry pan. Add the garlic and sauté over low heat until it just begins to turn golden. Add the scallions and sauté just until they soften a bit.
Stir in the greens (add in batches if need be, if your pan isn't large enough to accommodate all), beans, lemon juice or ACV, and cumin.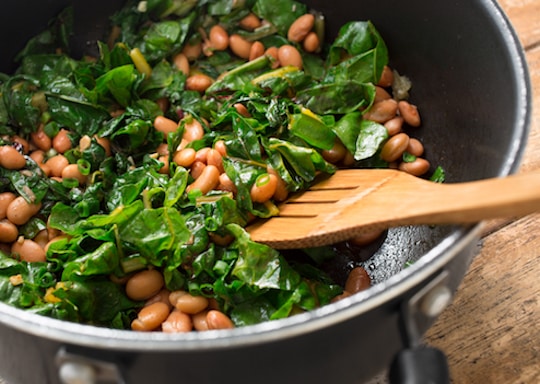 Add a little water to the pan to keep moist if need be, though the water clinging to the leaves might be sufficient. Cook, covered, over medium heat for 5 minutes or until the chard is tender but still bright green.
Drain off any excess liquid from the pan. Add dried hot red pepper flakes and salt and pepper to taste. Serve at once.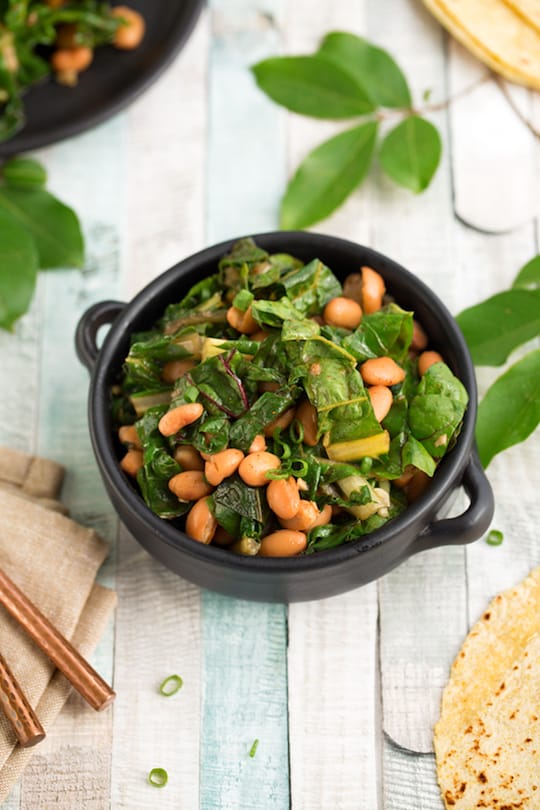 Photos: Hannah Kaminsky