Fresh roasted red peppers say "summertime." Their understated sweetness catapults so many foods to the next flavor level. Roasted red peppers taste terrific atop crusty bread, seasoned with fresh basil, salt, pepper, olive oil and enjoyed with a glass of dry rose. They can also elevate a humble sandwich from drab to fab.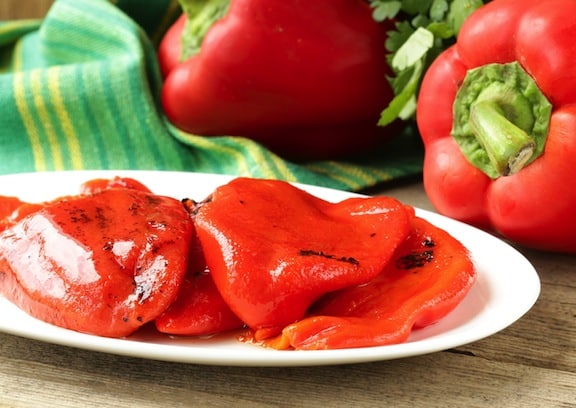 For an easy summer dinner, try them, thinly sliced, tossed with some arugula and served over whole wheat pasta with a dousing of best-quality extra-virgin olive oil.
For some unknown reason, jarred red peppers are ridiculously expensive, and they're not as good as homemade. When you roast your own red peppers, you retain control over some important factors:
The red peppers, themselves. Please use organic. Peppers are #8 on the

dirty dozen

, and are one of the most heavily sprayed crops.
The quality of the extra-virgin olive oil you soak them in [I love Colavita Fruttato
Freshness: God knows how long those jarred peppers have been sitting on the shelf.
Sustainability: Instead of paying an arm and a leg for carbon-footprint-heavy peppers that have been flown in from Italy, you can roast peppers that your friendly neighborhood farmer grew – with a totally clear conscience.
It's easy to roast peppers on the grill:
1. First, you place the peppers on the hot grill and roast them, lid down, turning a few times with tongs, until the skin is black and charred, and the peppers are totally wilted.
2. Transfer the peppers to plate. They are sizzling hot at this point, so you might want to carefully cut a slit in them to let the steam escape. When they're cool enough to handle, you can slip off as much of the skins as you'd like, especially where they're most charred.
3. Now slice them, then place them in a jar or container and douse with your favorite extra-virgin olive oil. Wasn't that easy?
We enjoyed ours with olive ciabatta bread on a incredible roasted portobello burger, and a corn-edamame salad.
This article was contributed by Dynise Balcavage. Dynise is the author of Urban Vegan: 250 Simple, Sumptuous Recipes from Street Cart Favorites to Haute Cuisine.* and blogs at Urban Vegan.