Grilled pineapple is amazing. It's a perfect foil for vegan proteins (tofu, tempeh, seitan, or vegan sausage) and veggies cooked on the barbecue. Adapted from Vegan Holiday Kitchen.*
1 medium fresh pineapple
3 tablespoons agave nectar
2 tablespoons lime or lemon juice
¼ teaspoon cinnamon
Trim the leafy crown from the pineapple and discard. Standing the pineapple firmly upright, slice off the tough skin, using downward motions with a sharp knife.
Cut the pineapple flesh away from the tough core, then cut into ½-inch-thick chunks, a bit larger than bite-sized.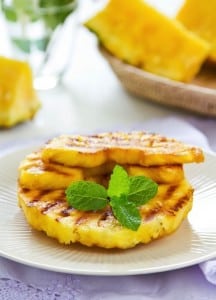 In a large mixing bowl, toss the pineapple with agave nectar and lime juice. Sprinkle in the cinnamon and toss again.
Prepare the grill. Place the pineapple pieces on the grill in a single layer. Grill for 3 to 4 minutes on each side, just until you get some nice grill marks. Don't overcook, as the pineapple may dry out.
*This post contains affiliate links. If the product is purchased by linking through this review, VegKitchen receives a modest commission, which helps maintain our site and helps it to continue growing!