Most recipes for homemade vegan Parmesan-style "Cheese" are downright simple — basically a combination of nutritional yeast plus cashews or almonds, ground down in a food processor. This formula for how to make vegan Parmesan cheese is the easiest ever — made in minutes, and no food processor needed. Just two key ingredients combine in one delicious and nutritious topping for pasta, grains, salads, stews, and more.
Huge bonus for vegans — a tablespoon or two of this vegan Parmesan provide you with a good dose of Vitamin B12. Nutritional yeast is one of very few plant-based sources of this valuable vitamin. 
For those of you who are new to "nooch" (as vegans have nicknamed nutritional yeast), don't confuse it for any other kind of yeast like brewer's or baker's. Often described as having a somewhat fermented, cheese-y flavor, nooch is a fortified yeast. Not only is it a great source of B12, it's rich in many of the other B vitamins and potassium. Just 1 ½ tablespoons has 8 grams of protein, and plenty of fiber, too.
The second ingredient in the mix is almond flour, also a vitamin- and protein-rich food. Bonus: Almond flour is a great source of Vitamin E and calcium.
So, let's compare. Here are the ingredients in the leading brand of vegan Parmesan, Go Veggie: Soy base (soy protein concentrate*, filtered water), instantized rice flour, coconut oil, rice maltodextrin, natural vegan flavors, rice flour, rice meal, tricalcium phosphate, sea salt, vegetable glycerin, lactic acid (non-dairy), citric acid, vitamin A acetate, soy lecithin.
* It must be said that we're not the biggest fans of soy protein concentrate. This kind of vegan Parmesan and others like it also don't offer much in the way of nutrition, though there is a significant amount of vitamin A and calcium.
Now, here are the ingredients in the two foods that add up to our super easy (and did we mention incredibly tasty?) Parmesan-style topping.
Nutritional yeast ingredients: Dry yeast, niacin, pyridoxine hydrochloride (Vitamin B6), thiamine hydrochloride (Vitamin B1), riboflavin, folic acid, and B12
Almond flour ingredients: Blanched almonds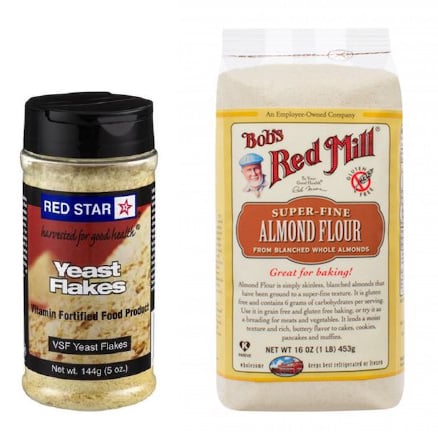 We use Red Star Yeast Flakes and Bob's Red Mill almond flour (almond flour is useful for gluten-free baking, by the way), but you can use whatever brands are available to you.
What you need
Nutritional yeast

Almond flour
You probably already have on hand:
Sea salt (or omit for salt-free diets)
What to do
1  Mix nutritional yeast and almond flour more or less half and half. ⅓ to /12 cup of each is a good amount for a small batch. For this amount, add ¼ teaspoon salt. Mix together thoroughly.
2  Sprinkle on pasta dishes, grain and bean dishes, soups, stews, etc. A tablespoon or two at a time gives you plenty of flavor and lots of added nutrition! Shown above with simple marinara pasta and our Laughably Easy Vegan Meatballs.
3  Transfer any unused portions to a tightly lidded small container, where it will keep for many weeks in the refrigerator.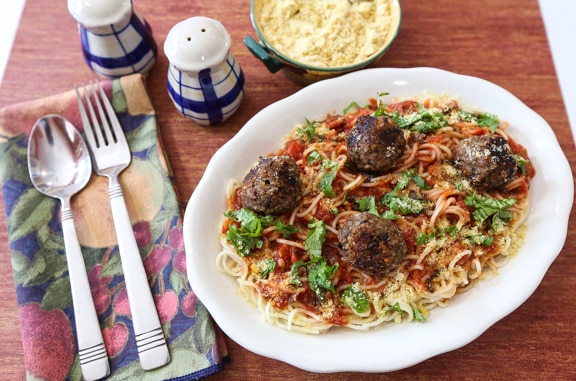 See more of our tasty and simple Shameless Shortcut Recipes.