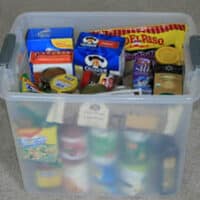 With snow and ice storm season upon us, it's a good idea to prepare for a possible extended loss of electrical power.  Even hurricanes, wild fires, tornadoes, and human goof-ups can take away the electricity for days and weeks at a time, leaving you with no fresh food and no way to prepare it.  This brief article fills you in on the wonders of "pantry cuisine" and other resources you can use to help you prepare your family and animal buddies in an emergency.
What to Eat?
Provided that you have a roof over your head and water to drink, eating proper food becomes your top priority when the electricity is out.  This is because you no longer have the means for refrigeration.  (See this USDA link on food safety.)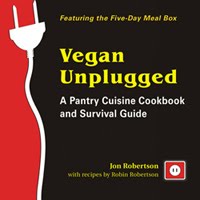 What's the answer?  Pantry cooking.  But more specifically "pantry cuisine," a higher form of great-eating developed for the book Vegan Unplugged* by myself and my wife, chef and author Robin Robertson.
The secret of creating delicious, well-balanced dishes from non-perishable ingredients, whether by necessity or choice, is a well-stocked pantry.  You can obtain a general vegan pantry supply list from various sources, however the one we provide in the book will "kick it up a notch" when excellent quick-cooking is called for.
If you're without power, you'll need  an inexpensive and effective way to cook.  For under $50, you can acquire a handy, single-burner butane stove that is ideal for cooking terrific pantry meals (Google "single burner butane stoves").  These stoves work great on the road, too.  You can also outfit a plastic container with enough non-perishable foods to feed four people for five days, what we call the "Five-Day Meal Box."  (The book provides a grocery list and menus, and the box fits in the bottom of a closet for when you need it.)
For this book, Robin specially developed 80 recipes that can be made in 15 minutes or less—perfect when the power's out, but also when you're traveling, visiting non-vegan family or friends, or just don't feel like cooking. Most can be made in a single pan.
Even if you want to wing it without special recipes, a good supply of pantry ingredients can help you get by.  But if you want to eat really well when the power goes out, you'll be glad you have these recipes. (See sample recipes below.)
Of course, you don't have to wait for a power outage to make these dishes—you can use them any time.
Emergency Preparedness
The critical issue in preparing for any emergency is the possibility of evacuation and potential loss of your home.  Whenever bad weather is headed your way, it's a good idea to fill the gas tank in the car and stock some containers of fresh water.  You'll also want to know where your important papers are in case you need to grab them in a hurry. (See other helpful info at the National Weather Service website.)
Animal Welfare
Of course, it's also important to make sure your animal buddies are safe and sound and that you have plenty of food and supplies set aside for them. Some things to keep in mind are to make sure they have proper identification collars and rabies tags and have at the ready a carrier or cage, a leash, bowls, and any medications they need. For cats, of course, a traveling litter box. (For more about preparing for pets, check out the FEMA Disaster Preparedness Checklist for Pets)
For more information about Vegan Unplugged, see a full description on the Vegan Heritage Press website.
Recipes
[Recipes from Vegan Unplugged: A Pantry Cuisine Cookbook and Survival Guide* by Jon Robertson and Robin Robertson (Vegan Heritage Press, © 2010).  Reprinted by permission.]
Curry-Spiced Pumpkin Bisque
If you're in the mood for a savory, creamy soup, this is as close as you're going to get from a canned-goods pantry.  If you like the flavor combination of curry and pumpkin, like we do, you'll make this treat even after they lights come on.
Serves: 4
1 (15-ounce) can pumpkin puree
1 tablespoon curry powder
1 teaspoon light brown sugar
1 (15-ounce) can unsweetened coconut milk
1 cup vegetable broth (canned or made with a bouillon cube)
Salt and freshly ground black pepper
2 tablespoons pumpkin seeds (optional garnish)
1. Combine the first 3 ingredients in a pot over medium heat.  Whisk in the coconut milk a little at a time until smooth.   Add up to a cup of the vegetable broth to achieve the desired consistency. Season with salt and pepper, to taste.
2. Simmer for 10 minutes to allow flavors to develop, stirring occasionally. Taste to adjust seasonings and serve hot, garnished with pumpkin seeds, if desired.
_______________________
Five-Minute Couscous Salad
Couscous is ideal for emergency cooking since it's ready in under 10 minutes.  Be sure to stock up on the whole-grain variety for optimum nutrition.  As is, the recipe is a main-dish salad for four, but can be easily halved if you're serving it as a side dish.
Serves: 4
2 ½ cups water
1 vegetable bullion cube
2 cups whole-grain couscous
½ cup slivered almonds, lightly toasted
2 teaspoons dried parsley flakes (or 2 tablespoons fresh parsley, if available)
3 tablespoons olive oil
2 tablespoon lemon juice
2 teaspoons dried minced chives
Salt and freshly ground pepper
2 (16-ounce) jars three-bean salad, drained
1. In a saucepan, combine the water and bouillon cube, and bring to a boil. Stir in the couscous, cover the saucepan, and remove it from the heat. Let the mixture stand for 5 minutes.
2. Stir in the almonds, parsley, olive oil, lemon juice, chives, and salt and pepper to taste.  Mix well.
3. Mound in the center of a platter surrounded by the three-bean salad.
____________________________
Almost-Instant Black Bean Chili
This hearty chili made with canned beans and a jar of salsa couldn't be easier.  Cook it over any heat source, just long enough to heat through and marry the flavors.  Serve with corn bread, over quick-cooking rice or noodles, or eat it  right out of the pot.
Serves: 4
2 (15.5-ounce) cans black beans, drained and rinsed
1 (16-ounce) jar salsa (hot or mild)
2 to 3 tablespoons chili powder, or to taste
1 tablespoon dehydrated minced onion
1 (8-ounce) can corn kernels, drained
1 cup water, or as needed
1. Combine the ingredients in a saucepan, reserving half the corn.  Cover and cook over moderate heat, stirring occasionally.  Add as much water as needed to create a sauce and prevent sticking to the bottom of the pan.
2. Reduce heat to medium and simmer, stirring frequently, until heated through and long enough to cook off any raw taste from the chili powder, about 15 minutes. Garnish with the remaining corn kernels.
Jon Robertson is a writer and publisher who lives and stays prepared in Virginia's beautiful Shenandoah Valley.  For more information about pantry cuisine, recipes, and emergency preparation see his blog, Vegan Unplugged.*
*This post contains affiliate links. If the product is purchased by linking through this review, VegKitchen receives a modest commission, which helps maintain our site and helps it to continue growing!