This composed salad is inspired by the classic Indonesian platter that combines raw and lightly cooked vegetables. Its name translates loosely to "mix-mix." There are different regional variations, but some of the constant veggies include carrots, cauliflower, and green beans. You can vary it according to season and what you happen to have on hand.
Though easy to enough to make as an everyday meal, it's also festive enough to serve to company or to make as a vegan potluck dish. Look for peanut satay sauce in the Asian foods section of well-stocked supermarkets. You can also substitute Peanut Sauce for the Coconut-Peanut Dressing if you can't find the peanut satay sauce recommended in the ingredient list. Rice is often served with this, and some simply cooked brown rice (try brown Basmati) is a good way to embellish the meal. You can use the plentiful Coconut-Peanut Sauce to flavor the rice as well
Serves: 4 to 6
2 to 3 ounces mixed baby greens, baby spinach, baby arugula,
shredded romaine lettuce, or a combination
1 cup green sprouts, like baby pea shoots or broccoli sprouts
4 ounces slender green beans, tips trimmed (see note)
¼ medium head cauliflower, cut into bite-sized pieces
1 cup baby carrots (thick ones cut in half lengthwise), or
1 large carrot, peeled and sliced about ¼" inch thick on the diagonal
3  medium tomatoes, diced, or ½ pint golden or red cherry tomatoes
8-ounce package baked tofu, any variety, cut into narrow strips
Coconut-Peanut Dressing:
8-ounce jar peanut satay sauce (look for it in the Asian foods aisle)
½ cup light coconut milk
Juice of 1 lime
½ teaspoon red or green Thai curry paste or Sriracha sauce, more or less to taste
2 teaspoons agave nectar or natural granulated sugar
Spread the greens on a large serving platter, then sprinkle the sprouts over them.
Place the green beans, cauliflower, and carrots side by side, without mixing, in a wide skillet with about ¼ inch depth of water. Cover and steam for 3 to 4 minutes, or until all are tender-crisp. Remove each type of vegetable separately with a slotted spoon, transfer to a colander, and refresh under cool water. Transfer to a small plate Repeat with each vegetable.
Arrange the green beans, cauliflower, and carrots in separate mounds on the greens, leaving room to add the tomatoes and tofu. Arrange those on the greens as well, between the cooked vegetables.
Combine the ingredients for the dressing in a small mixing bowl and whisk together until completely combined.
To serve, let everyone scoop the vegetables, tofu, and greens onto individual plates, then pass around the dressing for everyone to use as desired.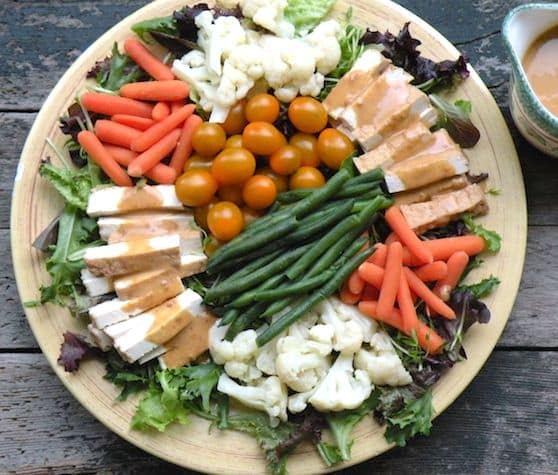 Explore more of VegKitchen's: