Pureed butternut squash soup is so comforting. But unless you've got time to spare, making it from scratch is a bit of a project. A good one, mind you, but not one that most people would embark on when they walk in the door from a long day of work. To make this nearly-instant butternut squash soup with spinach and peas, we use the soup base that comes in 32-ounce containers — Imagine and Pacific brands are equally good. 
This quick, warming soup is perfect paired with a crusty bread or wraps. See a complete menu in our 20-Minute Butternut Soup and Hummus Wraps Dinner. As we mention in that post, prepared butternut squash soup is a bit on the bland side, but adding spinach, peas, and some seasonings — gives it a nice boost. 
Serves: 3, generously
Time to table: 10 minutes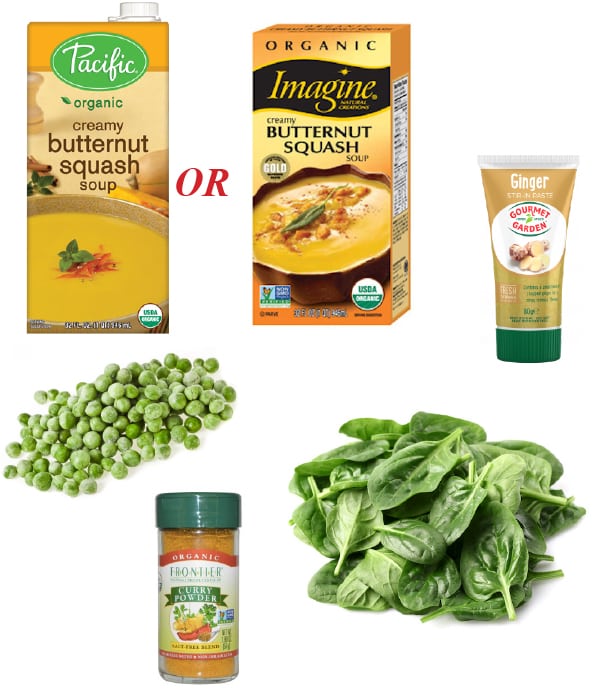 What you need 
Pacific or Imagine butternut squash soup (32 ounce container)

Frozen peas (8-ounce bag, or half of a 16-ounce bag),

Fresh baby spinach (5-ounce container)

Squeezable ginger (or fresh, if you're less lazy)

Curry powder
1  Pour the contents of the carton of butternut squash soup into a small soup pot along with the peas. Heat to a rapid simmer and cook for just a couple of minutes, until the peas are done.
2  Add all of the spinach to the soup pot and cover (do so in batches if too crowded); cook until just wilted. Season with ginger and curry to your taste, plus some salt and pepper if you'd like.
3  Serve and enjoy!
Variation
To make this more of a main-dish soup, add a 15-ounce can of chickpeas (drained and rinsed). Serve with a crusty bread or fresh flatbread instead of the wraps, and if you'd like, add a simple salad to the meal.
Once again, make sure to see our full menu featuring this Instant Butternut Squash Soup with Spinach and Peas, served with delicious hummus and avocado wraps.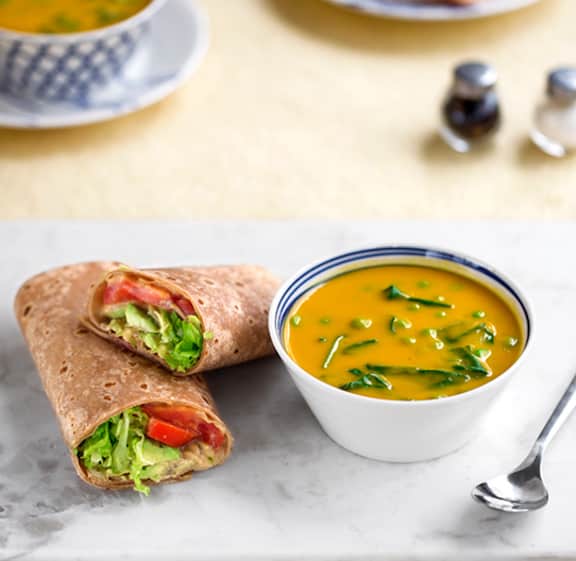 Photos by Hannah Kaminsky