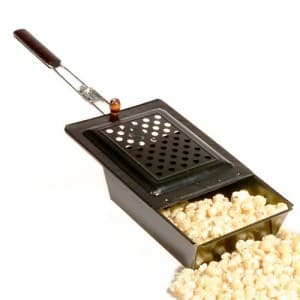 If you're a popcorn fan, here's a kitchen (or fireplace) tool you'll enjoy using. Microwave popcorn might be a smidgeon easier, but it doesn't compare with the deep, delicious flavor produced by this old-fashioned popcorn popper. Made by Jacob Bromwell, the oldest cookware company in the U.S. (founded in 1819), this popper is composed of a simple metal box with a ventilated lid and a long handle. 
For best results, season the pan with oil before using. To use, simply add enough oil to coat the bottom of the popper (instructions call for 3 tablespoons of oil for ⅓ to ½ cup kernels, but I got away with much less—try using organic virgin coconut oil!). Hold the popper 2 to 3 inches from a stovetop gas flame or campfire flame; or do as I did and set the popper on top of (not inside of) a hot wood stove. I tried setting the popper on my electric cooktop stove over medium heat and it worked fine there as well. No matter what hot surface you work with, make sure to shake the pan regularly, and remove from the heat once the popping slows down; don't wait until it completely stops, to avoid  getting too many burned kernels. You can always save any "duds" for your next batch.
Like using a grill, using this popper is a bit of science and a bit of art, so after using it a couple of times, you'll see how it works best with whatever kind of heat source you're using.
The popcorn is so deeply flavorful just as is, but if you'd like to embellish it, you can drizzle in a little melted Earth Balance and/or salt. I'm a salt-aholic and I find little need for salting this yummy popcorn.
This popper would make a great gift for movie buffs (good popcorn makes a so-so movie better!), camping enthusiasts, or those who use a wood stove. And of course, anyone who simply loves great popcorn!
And especially for VegKitchen readers, Jacob Bromwell is offering a 15% off coupon for the Old Fashioned Popcorn Poppers and all of the legendary American cookware offerd on their gorgeous site. Products are American made, and come with a lifetime guarantee. Explore some of the other classic kitchen tools like the chestnut roaster, rotary ricer, sifters, graters, and more. Simply use the coupon code VEGKITCHEN15 at checkout.