Any time you put kale and quinoa together, it's a winning duo. Not only are they both nutritional powerhouses, they taste and look fantastic together. Cook quinoa ahead of time, and this salad can be made in a snap. For an easy meal, serve with Sweet and Savory Sautéed Tofu, and corn on the cob or baked sweet potatoes. Photos by Hannah Kaminsky.
Serves: 4 to 6
1 cup quinoa
6 to 8 curly kale or lacinato kale leaves, stemmed
Olive oil for massaging kale
15- to 16-ounce can artichoke hearts, drained
½ pint cherry tomatoes, preferably golden, halved
1 /2 medium red bell pepper, finely diced
¼ cup minced fresh parsley
2 scallions, thinly sliced
Juice of 1 to 1 ½ limes (about ¼ cup), or to taste
2 tablespoons extra-virgin olive oil
Salt and freshly ground pepper to taste
Pinch of dried hot red pepper flakes, optional
2 tablespoons or so toasted sunflower seeds, optional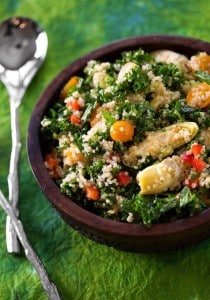 Combine the quinoa with 2 cups water in a saucepan. Bring to a gentle boil, then turn down the heat and simmer gently until the water is absorbed, about 15 minutes. Remove from the heat and allow to cool to room temperature.
Strip the kale leaves away from the stems. Discard the stems, or slice them very thinly. Cut curly leaves into bite-size pieces, or lacinato leaves into narrow strips. Rinse well and pat or spin dry. Place in a large bowl along with sliced stems if you're using them. With a little olive oil rubbed into your palms, massage the kale for a minute or less, until it becomes bright green and softens a bit.
Add the remaining ingredients, including the cooked quinoa, and toss together, gently but thoroughly. Let the salad stand for 10 to 15 minutes, then taste to adjust the salt, pepper, optional red pepper flakes, and lime juice before serving. The lime juice really kicks up the flavor, so be bold with it!
Nutritional Information:
Per serving: 263.2 calories; 13g fat; 299.3mg sodium; 214.8mg potassium; 36.3g carbs; 4g fiber; 4.6g sugar; 5.9g protein