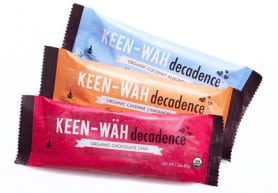 I'm not generally a "bar" person, so bars reaaaalllly need to be good to motivate me to want another. Keen-wäh Decadence Bars definitely pass the "I want more" test. What's most amazing is that these rich-tasting bars are filled with antioxidants, vitamins, and valuable omega-3s. At their heart, they are made of quinoa, whose nutritional profile is stellar. Who knew it could translate into something so desserty and delectable?
I received all three varieties to sample:
Chocolate Chia, a blend of quinoa, chia seeds (also nutritional superstars), raw caco nibs, and almonds.
Coconut Almond, a mellow mix of quinoa, dark chocolate, coconut, and almond.
Cayenne Cinnamon, a spicy burst of quinoa, dark chocolate, cayenne, and cinnamon
All three flavors are indeed decadently delicious, vegan, gluten-free, and USDA organic. If you're looking for a snack that packs a nutritional punch, and as Yoga Earth describes them, "Intelligent indulgence," Keen-wäh Decadence Bars are highly recommended!
Special offer for VegKitchen readers — enter the coupon code VEGKITCHEN for a 10% discount on total order at checkout when you buy directly from YogaEarth's site.