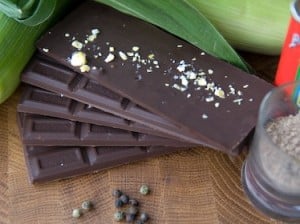 New Paltz (a funky college town in New York's Hudson Valley, just 90 miles north of Manhattan) is very lucky—it's the home of Lagusta's Luscious, a cornucopia of sensuous pleasures for the palate, mainly centered around chocolate. It's a business with a lot of heart—the delicious confections and pastries are organic, fair trade, and vegan. The ingredients are sourced from small producers, local farms, and artisans.
Though the Lagusta's Luscious shop (named for its energetic and talented owner) is a bricks and mortar store, much of the business is mail order, so you need not live in the Hudson Valley to enjoy this remarkable chocolate. I can't be any more eloquent or passionate about Lagusta's mission, so read all about this chocolate entrepreneur and how chocolate can make a political statement.
This business reminds me of the socially conscious ventures that were started in the seventies, like The Body Shop, Celestial Seasonings, and Patagonia. We need more of that ethical, entrepreneurial spirit today, when jobs are scarce and so much is made overseas. It's refreshing to see a thriving homegrown business for which compassion is as central as profits.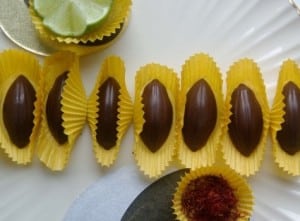 A lot of good all this would be if the chocolates weren't, as they're described, "heartbreakingly delicious." And they really are. I took home a box with a sampling of various flavors of Lagusta's signature Bluestocking Bonbons, and they were all amazing, with subtle yet distinctive flavors I've never experienced before in chocolates. Yes, there was the classic peanut butter cup, but beyond that it was totally new territory: rosemary sea salt caramels, beet coriander, blueberry, saffron wild lime (at left), and others. Aside from the Bluestocking Bonbons, Lagusta's also offers bars and barks, truffles, and much more.
The day I stopped at the shop to pick up the bonbons. a fresh batch of chocolate croissants had just been made. I just couldn't resist; after all, buttery croissants were something I gave up years ago after going vegan. Lagusta's are made with coconut oil so they're 100% plant based. Next on my list to try: The Pink Box (aka The Hudson Valley Box), which contains two each of Raspberry-Balsamic, Coriander-Beet, Fennel-Apple, and Pomegranate truffles.
Visit Lagusta's Luscious online or in "real life," at 25 North Front Street, New Paltz, NY; open 12-7 every day. By the way, the shop is adjacent to one of the entrances to the area's miles-long rail trail, so even if you indulge, you can immediately work it all off!