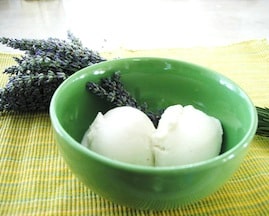 Lavender blossoms give this ice cream a unique, delicate flavor. I love it with a mild-flavored cake like pound cake. It's also delicious topped with berries. This is one of my most-requested recipes. Recipe and photo courtesy of Cathe Olson, from Lick It! Creamy, Dreamy Vegan Ice Creams Your Mouth Will Love.*

Makes: 1 quart
1 ¼ cups soymilk or other nondairy milk
¼ cup fresh lavender flowers and buds (about 8 large sprigs)
1 (14-ounce) can full-fat coconut milk
½ cup granulated sugar or agave nectar
Pour the soymilk into a small saucepan and warm on medium-low heat until it just begins to boil. Stir in the lavender flowers and buds. Cover and remove from the heat. Steep for 20 minutes.
Place a fine-mesh strainer over a medium bowl. Pour the soymilk through the strainer to remove the lavender. Whisk in the coconut milk and sugar. Cover and chill in the refrigerator for at least 3 hours. Then freeze in an ice cream maker according to the manufacturer's directions.
Cathe Olson is the author of Simply Natural Baby Food, The Vegetarian Mother's Cookbook,* and Lick It! Creamy, Dreamy Vegan Ice Creams Your Mouth Will Love.* For more information and sample recipes, visit Cathe at Simply Natural Books.
*This post contains affiliate links. If the product is purchased by linking through this review, VegKitchen receives a modest commission, which helps maintain our site and helps it to continue growing!