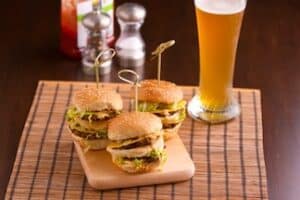 When author Brian Patton (aka The Sexy Vegan) began dating his soon-to-be wife, he offered to entertain her with Friday night happy hours at her apartment or his. After a long workweek, she was ready to kick back and enjoy a cocktail or glass of wine, and it was the perfect way to enjoy summer evenings. After a couple weeks, these evenings weren't just for two because her friends begged for invitations after hearing rave reviews of Brian's delicious tapas and appetizers.
This Little Macs recipe is from the book's The Happiest Meal Happy Hour Menu that also includes a recipe for Baked Sweet Potato "Fries" with Adobo Dipping Sauce. Excerpted with permission from The Sexy Vegan's Happy Hour at Home* ©2013 by Brian Patton. Published with permission of New World Library. 
Serves: 4
One 15-ounce can black or green lentils, drained

1 ½ teaspoons smoked paprika

½ teaspoon onion powder

½ teaspoon garlic powder

⅛ teaspoon pepper

1 tablespoon low-sodium tamari

1 teaspoon vegan Worcestershire sauce

¼ cup plus 1 tablespoon vital wheat gluten

2 tablespoons extra-virgin olive oil

16 small slices vegan cheddar cheeze

8 tiny sesame seed buns (about 2 inches wide) plus the bottom halves of

8 other tiny buns (to use as the middle bun)

½ cup Very, Very Special Sauce (recipe follows)

2 cups shredded romaine lettuce

2 small dill pickles, thinly sliced

½ cup minced white onion

8 long toothpicks or skewers

 
To make the burger patties, in a medium bowl, combine the lentils, paprika, onion powder, garlic powder, pepper, tamari, and Worcestershire. Mash it all together with a fork or your hands until about 70 percent of the lentils are mashed.
Add the wheat gluten and continue mashing until there are no dry parts remaining and you have a ball of dough. Scoop out a heaping tablespoon of dough and place it on a large cutting board or other work surface. Repeat until you have 16 lumps of dough. Roll each lump into a ball, then flatten it into a 2-inch patty.
In a large skillet, heat the olive oil to medium-high, and add the patties (you may have to fry them in two shifts). Fry on one side for about 5 minutes, or until browned. Then flip, top each patty with a cheddar slice, and fry for another 5 minutes.
In the meantime, get your tiny buns ready. Slather the top and bottom bun halves, and one side of the middle buns, with the Very, Very Special Sauce.
By now your patties should be ready, so it's time to start assembling. Place one patty on each of the bottom bun halves. Top the patties with half of the lettuce and half of the pickles.
Place the middle bun pieces, sauce side down, on top of that, followed by the remaining patties, lettuce, and pickles, and the onion. Finally, cover with the bun tops and use toothpicks or skewers to hold them together.
Very, Very Special Sauce
1 cup vegan mayo

½ cup sweet pickle relish

½ cup ketchup

¼ cup yellow mustard

 
In a small bowl, whisk all this stuff together.
Brian Patton is author of The Sexy Vegan's Happy Hour at Home* and The Sexy Vegan Cookbook. He is also executive chef for Vegin' Out, a vegan food delivery service in Los Angeles. As the quintessential "regular dude" vegan chef, he started posting instructional cooking videos on YouTube as his witty, ukulele playing alter-ego The Sexy Vegan and quickly gained a large following. Visit him online at The Sexy Vegan.
*This post contains affiliate links. If the product is purchased by linking through this review, VegKitchen receives a modest commission, which helps maintain our site and helps it to continue growing!