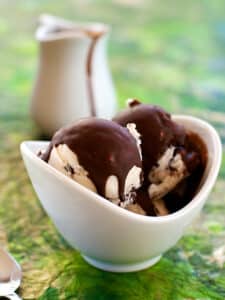 Textural contrast is what keeps a big bowl of ice cream interesting through each and every bite, and precisely why a magical shell topping can be so dangerously addictive. A sauce that pours on as a liquid but instantly solidifies upon hitting a frosty scoop of ice cream, it's almost as much fun to play with as it is to eat. Chocolate is always the most popular with any crowd, but don't let the classic limit your creativity! Plenty of other flavors can add a crunch that's just as sweet and satisfying. Recipe and photo courtesy of Hannah Kaminsky, from Vegan a la Mode.* Reprinted with permission of the author and  Skyhorse Publishing.
Makes about 1 cup for each flavor variation
Chocolate Shell:
½ cup coconut oil
3 ounces (½ cup) semi-sweet chocolate chips
1 tablespoon light agave nectar
Pinch salt
Peanut Butter Shell:
½ cup coconut oil
½ cup creamy peanut butter
⅓ cup confectioner's sugar
½ teaspoon vanilla extract
¼ teaspoon salt
Vanilla Bean Shell:
⅓ cup coconut oil
4 ounces 100% food-grade cocoa butter
⅓ cup confectioner's sugar
½ whole vanilla bean, split and scraped, or 1 teaspoon vanilla bean paste
Pinch salt
If you can operate a microwave, you can make your very own magical shell with ease. Simply place all of the ingredients for your chosen shell flavor into a microwave-safe bowl and give it a blast at full power for 60 seconds. Stir well; if everything isn't completely melted and perfectly smooth, continue heating the mixture at intervals of 20 seconds, stirring thoroughly between each trip back to the microwave.
Let cool for at least 10 minutes before pouring over your bowl of ice cream. Watch it solidify in a matter of seconds, then go ahead and shatter your handiwork!
Hannah Kaminsky is also the author of My Sweet Vegan* and Vegan Desserts.* Visit her blog, Bittersweet.
*This post contains affiliate links. If the product is purchased by linking through this review, VegKitchen receives a modest commission, which helps maintain our site and helps it to continue growing!