If you're new to smoothie bowls, you'll soon understand their their appeal. This one combines two juicy tropical fruits, mango and papaya. Add-ins are the best part of smoothie bowls, making them a little more interesting, better-looking, and possibly more filling too (depending on said toppings)?
Speaking of toppings, choose as many or as few as you'd like; just don't skip the beautiful golden syrup to add a little sweetness, tartness and flavor boost. You can replace the coconut milk with any unsweetened plain vegan yogurt you like. If the results are too thick for your taste, you can thin them out with an unsweetened plain plant-based milk of choice.
I like using canned coconut milk because it gets super light and airy when blended with the fruit. If you want the resulting smoothie to be thicker, use frozen mango and papaya. Note that the recipe icons might not apply depending on the toppings you choose and if you make the aforementioned changes on the milk and yogurt front.
This recipe is gluten-free, oil-free, soy-free, and super quick to prepare. Recipe and photo credit: Bold Flavored Vegan Cooking by Celine Steen, Page Street Publishing Co. 2017. Reprinted by permission.
Yield: 2 servings, ⅓ cup (80 ml) syrup
For the syrup
¼ cup agave nectar

1 tablespoon lemon juice

¼ teaspoon ground ginger

¼ teaspoon ground turmeric
For the bowls
6 ounces mango flesh, chopped

6 ounces papaya flesh, chopped

1 frozen, peeled medium banana

½ cup unsweetened canned coconut milk or coconut cream

Juice from 1 lime (about 2 tablespoons)
Toppings (use as many as you'd like; vary each time)
Super seed and sprouted grain blend, chia seeds, hemp seeds, granola, fresh fruit, toasted unsweetened coconut flakes, cacao nibs
To make the syrup, stir together the agave, lemon juice, ginger and turmeric in a small mason jar.
Cover and let stand while preparing the rest. The syrup can be stored in an airtight jar in the refrigerator for up to 2 weeks. Stir again before use.
To make the bowls, place the mango, papaya, banana, coconut milk and lime juice in a blender.
Blend until perfectly smooth and combined. Transfer to two bowls. Drizzle with syrup to taste, and cover with your toppings of choice. Serve immediately.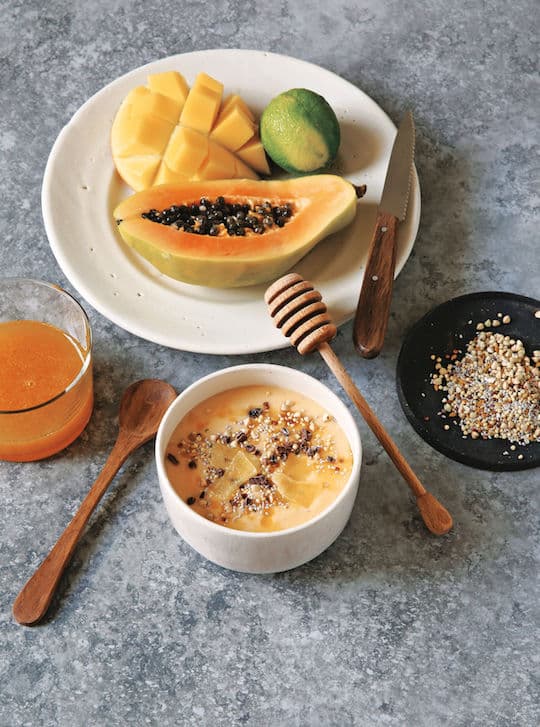 *This post contains affiliate links. If the product is purchased by linking through this review, VegKitchen receives a modest commission, which helps maintain our site and helps it to continue growing!