If you're looking for a great quinoa salad that is pretty enough for company but easy enough for everyday meals, try this one. For lunch, it's all you need, other than a fresh fruit. For dinner, it's great served with baked sweet potatoes and vegan quesadillas. Or pair it with one of VegKitchen's warming fall harvest soups. Recipe and photo contributed by Wendy Polisi, reprinted by permission from Cooking Quinoa.*
Serves: 4 to 6
1 ½ cups cooked quinoa*
1 ½ cups black beans
1 cup corn, thawed
1 tomato, seeded and diced
½ red onion, slivered
2 tablespoons pickled jalapeño, diced
4 corn tortillas (preferably whole-grain, organic, non-GMO)
¼ cup lime juice
½ to 1 chipotle chilie in adobo sauce
(The dish will be HOT if you use a whole one)
4 cloves garlic, minced
½ cup fresh cilantro, chopped
2 tablespoons olive oil
1 teaspoon agave nectar
1 teaspoon ground cumin
1 teaspoon sea salt
1 avocado, diced
Preheat oven to 350 degrees F. In a large bowl, combine cooked quinoa, black beans, corn, tomato, red onion and pickled jalapeño.
Slice corn tortillas into narrow strips. Spray a baking sheet with olive oil and add tortilla strips. Spray again. Sprinkle with salt and pepper if desired. Bake for 10 to 15 minutes, until crispy  (check often to make sure the tortillas don't burn).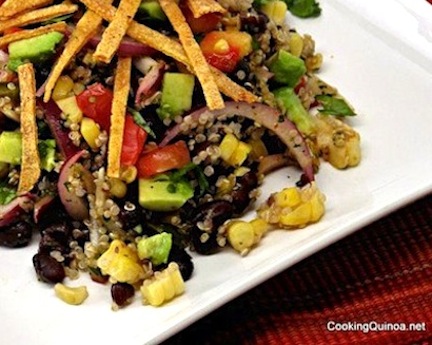 Meanwhile, in a blender or food processor, combine lime juice, chipotle chile, garlic, cilantro, olive oil, agave nectar, cumin, and salt. Process until mixture is smooth. Toss with quinoa mixture.
Plate quinoa and top with avocado and tortilla strips. (If making ahead, wait to put avocado and tortilla strips on at the last minute. Store leftover tortilla strips in an air tight bag, and return to oven to crisp if desired prior to serving.)
* Cook ¾ cup quinoa in 1 ½ cups water. Follow this link for tips on cooking quinoa.
* If you've ever wanted to make your own tortillas, see Amazon.com for tortilla presses.
For lots of great quinoa recipes, including a downloadable book, go to Wendy Polisi's Cooking Quinoa.
*This post contains affiliate links. If the product is purchased by linking through this review, VegKitchen receives a modest commission, which helps maintain our site and helps it to continue growing!