Here's a delicious start to your morning, with all sorts of fresh vibrant Greek flavors. To really gild the breakfast lily, serve alongside fried potatoes and some toasted whole grain bread.Recipe from Vegan Diner: Classic Comfort Food for the Body and Soul* by Julie Hasson, published by Running Press, © 2011, reprinted by permission. Photo by Steve Legato.
Serves 4
2 teaspoons extra-virgin olive oil
1 small Vidalia onion, diced (1 cup)
1 red bell pepper, seeded and diced
½ cup pitted Kalamata olives, coarsely chopped
2 large cloves garlic, pressed
14-ounce block firm tofu, drained and lightly pressed
1 ½ tablespoons nutritional yeast flakes
1 ½ teaspoons dried basil
1 ½ teaspoons dried oregano
1 ½ teaspoons dried parsley
2 cups lightly packed fresh baby spinach
Fine sea salt and freshly ground black pepper, to taste
In a large skillet, add olive oil and heat over medium high heat. Add onion, red pepper, olives, and garlic, cooking and stirring for 3 to 4 minutes, or until the vegetables have softened.
Crumble tofu into skillet and cook about 5 minutes or so, just until lightly browned. Add nutritional yeast, basil, oregano, and parsley, stirring until the tofu is evenly coated.
Add spinach, cooking another minute or two, just until wilted. Add salt and pepper to taste. Serve immediately.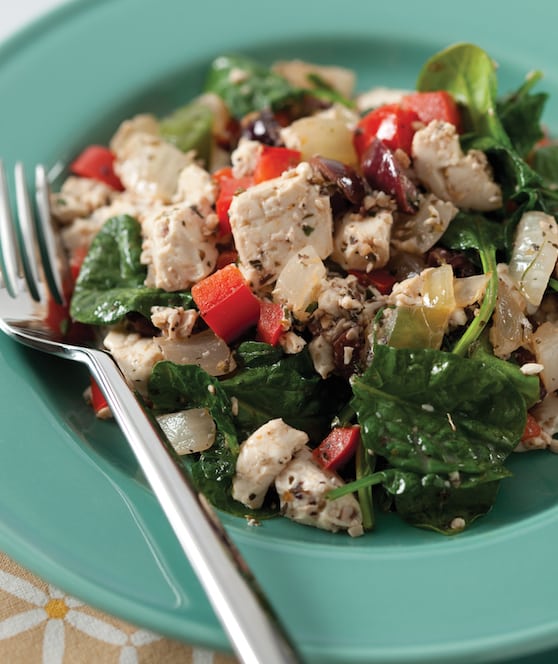 *This post contains affiliate links. If the product is purchased by linking through this review, VegKitchen receives a modest commission, which helps maintain our site and helps it to continue growing!