If you're vegan, you need to know that miso soup served in a Japanese eateries is often made with fish stock, so do ask when ordering. It's a warming treat that's a shame to miss, it's nice to know that making traditional-style miso soup at home (minus the fish) is quite easy. Lately, though, I'm not fond of what kombu (a sea vegetable) does for the soup. It has a fishy flavor (after all, it comes from the ocean), a weird slippery texture, and it's expensive. Fortunately, this vegan miso soup recipe is just as good without it.
Like its more traditional counterpart, it's incredibly easy to make and cooks up in minutes. The green leafy aspect of the kombu is replaced with dark green lettuce leaves.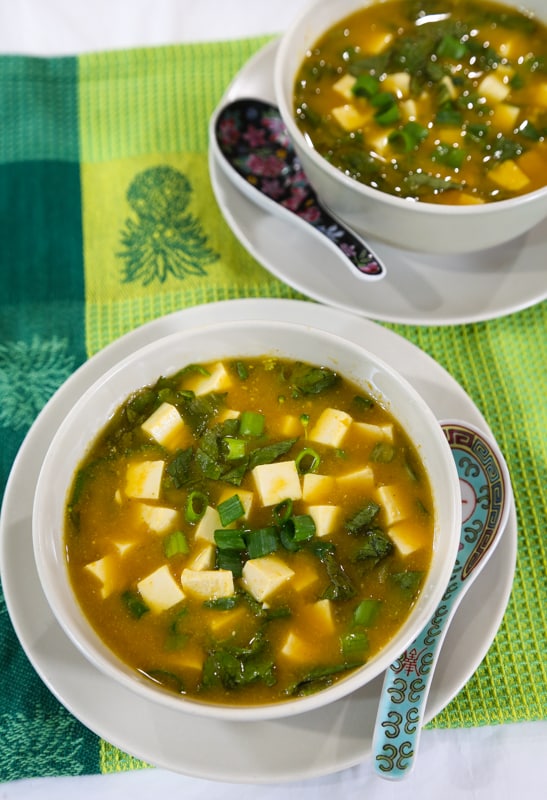 Miso is a great ingredient keep as a staple in the fridge; learn more about it here. Note that once the miso is stirred into water, it should not be boiled. Otherwise, its beneficial enzymes will be destroyed.
Serves: 4 to 6
32-ounce container low-sodium vegetable broth

12.3-ounce container extra-firm silken tofu

2 to 4 tablespoons miso, to taste

2 to 3 scallions, green parts only, thinly sliced

2 to 3 big handfuls of coarsely chopped romaine leaves

Freshly ground pepper to taste
Heat the broth in a small soup pot and bring to a slow boil
Stir in the tofu and cook until the broth returns to a rapid simmer again, then turn the heat down to low.
Dissolve the desired amount of miso in just enough warm water to make it pourable. The more miso you use, the more pungent and salty the soup will be, so start with less, and add until the soup is salty/pungent to your liking. Stir into the broth.
Stir in the scallions and chopped romaine, and season with pepper. Serve at once.
Variations


Add some shirataki noodles to the soup. as shown just below. These ready-to-use thin noodles are made with tofu, and come in water-packed packages. Make sure to drain and rinse, then cut up a bit to shorten. Add to the soup or place a small bunch on top of each serving.

If you still like the idea of sea vegetable, use one of those little packages of nori seaweed snacks. Cut a piece or two into strips and scatter atop each serving as a garnish.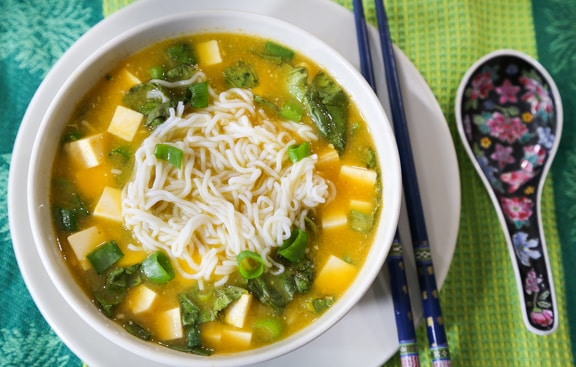 Photos by Evan Atlas