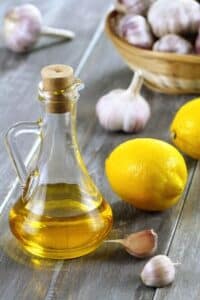 This basic marinade is excellent for grilling vegetables. The tang of lemon juice balances the fruity taste of the olive oil.
Makes: about ½ cup
½ cup olive oil
Juice of  1 to 1 ½ lemons, to taste
1 teaspoon lemon thyme, if available
otherwise, substitute a dried Italian seasoning blend
1 to 2 cloves garlic, minced
Freshly ground pepper to taste
Combine all the ingredients in a small container. When brushing on vegetables, swirl the mixture around with the brush often to keep the oil and lemon combined.