This Pesto and Mushroom-Stuffed Sweet Potato dinner is a beautiful, blissfully easy vegan meal idea that doesn't require you to follow any recipes. Among our 6 Fantastic Ways to Stuff Sweet Potatoes, this centerpiece stuffed potato is my absolute favorite. There's something about the mildly briny pesto combined with the smooth sweet potato and earthy mushrooms that goes beyond each of these three already-delicious components.
It's a perfect dinner centerpiece for those days when you don't feel like eating out, but you're too tired to think. And that's exactly why we've done all the thinking for you. If you don't object to microwaving, this meal can be made in mere minutes, served with a simple salad of arugula (or spinach), tomatoes, and chickpeas.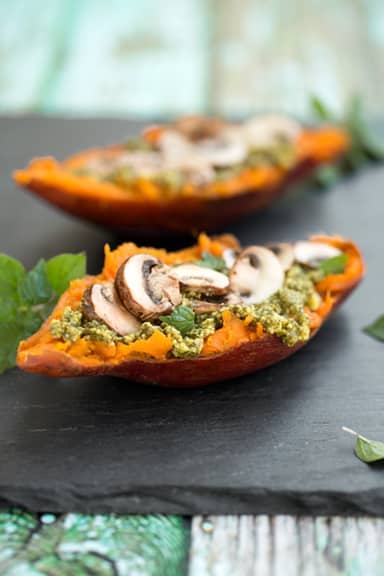 As for prepared vegan pesto sauces, there are more available than ever before, and you'll usually find them in the pasta aisle or produce section. Read labels carefully if you're looking for a dairy-free option. If you're so inclined, you can make your own vegan pesto (see More time / less lazy, below).
Let's get started on this stuffed sweet potato dinner — the sooner we do, the sooner we'll eat!
Serves: 2
Time to table: 15 minutes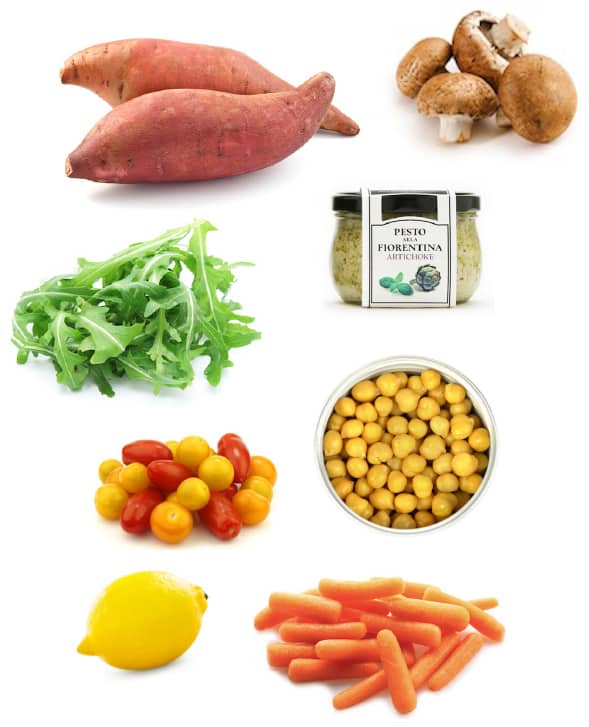 What you need
2 large sweet potatoes

8 ounces brown mushrooms (like cremini)

6- to 8-ounce jar pesto (see Note)

5- to 6-ounce package baby arugula or spinach

1 pint cherry or grape tomatoes (a mix of red and golden is nice)

1 package baby carrots

15-to 16-ounce can chickpeas

Lemon
You probably already have on hand
What to do
1  Microwave the sweet potatoes until nice and soft. Depending on your unit, allow 3 minutes per sweet potato; test to see if it can be easily pierced, then add another minute or two as needed.
2  In the meantime, clean, slice, and wilt down the mushrooms.
3  When the sweet potatoes are ready, split them in half lengthwise, slather with pesto (use as much as you'd like, but you may have some left over), and top with mushrooms (ditto).
4  While all that is going on, make a simple salad with the the arugula or spinach, tomatoes, carrots (cut them into quarters lengthwise if they're chunky), and drained and rinsed chickpeas. Make as much or as little salad with these ingredients as you'd like, and store the rest.
5  Dress the salad with the juice of ½ to 1 lemon as needed, and a drizzle of olive oil.
Note: We love Amore artichoke pesto, but Meditalia also has a vegan option. Other brands can be local, so see what your stores carry.
More time / less lazy: Make your own spinach and basil pesto if you have the inclination, and a food processor.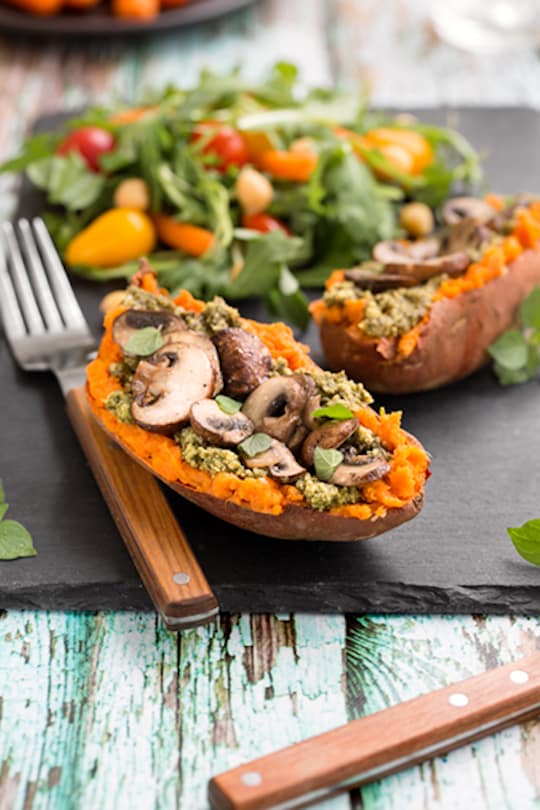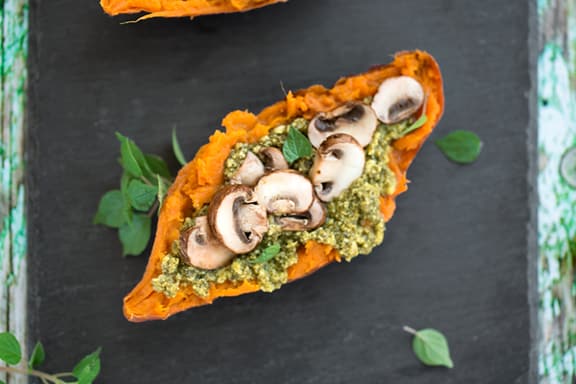 See more of our delicious vegan dinner hacks!