Not long ago, we presented super-easy and extremely tasty Pesto or Hummus Flatbreads in a make-as-many-as-you-need version. We enjoy these so much, especially during the warmer months, that we were inspired to present a full meal paired with a tasty black bean salad.
For the flatbreads, choose something that's 6 to 8 inches in diameter. Flatbreads are pre-baked, so all they need is a quick warm-up on a dry skillet to get the bottom nice and golden and crispy. Pre-baked mini pizza crusts work very well too, as do sturdy Indian breads (make sure there's no dairy in them).
Most breads come in packages of at least 4, but you can make as few or as many as you need. If you're eating solo or serving two, just make those, and you can make them again the next day, as they're best fresh and take almost no time to prepare.
We've kept these really simple, but as you start making them you might thinking of ways to vary them. No matter what, there's no need to follow any strict recipe — just spread the sauce of choice on the surface, and sprinkle with toppings. 
Serves: 2 to 4
Time to table: 20 to 30 minutes, depending on how many flatbreads you make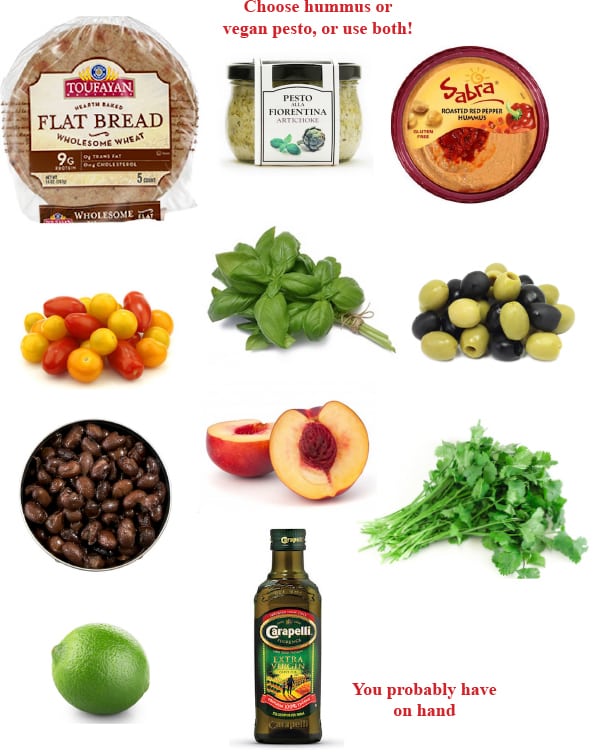 What you need
Package of 4 or more natural flatbreads or pre-baked pizza crusts

Hummus or vegan pesto

Cherry or grape tomatoes (red, yellow, or a combination)

Basil (small bunch)

Olives (small amount, pitted; black, green, or a combination)

Black beans (15-ounce can)

Peach or nectarine

Cilantro or parsley (small bunch)

Lime or lemon (or bottled juice)
You probably already have on hand (optional)
What to do
1  Heat a medium-size skillet. Grill one flatbread at a time until the bottom is golden brown, over medium heat. This should take no more than 5 minutes, but it depends on your stove and on the bread, so watch carefully!
2  Remove from the heat and spread with pesto and/or hummus. Cut into quarters and sprinkle with sliced cherry tomatoes, olives, and basil.
3  Make the bean salad while the breads are grilling. Drain and rinse the beans and combine them in a bowl with a pitted and diced peach or nectarine. Use as much cilantro or parsley as you'd like; don't fuss with the leaves, just slice thinly, stems and all. Add the juice of a lime or lemon to taste, and drizzle in some olive oil (you can also add salt and/or pepper if you'd like).
4 Serve the flatbreads and bean salad side by side.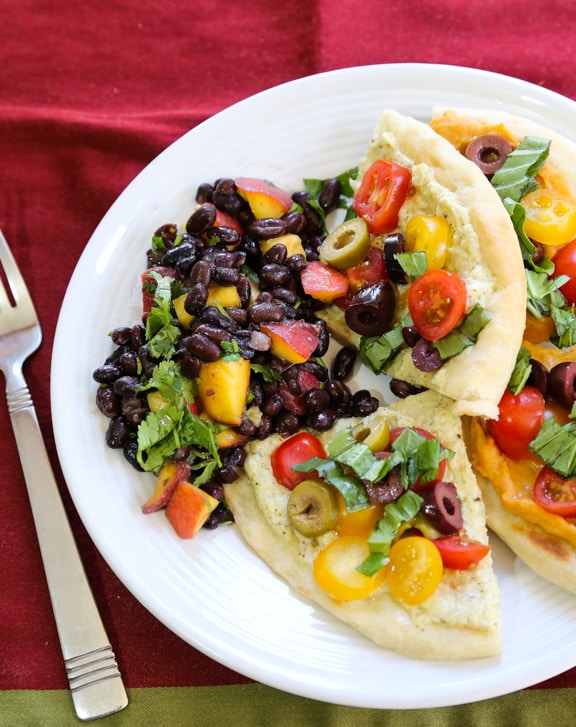 Photos: Evan Atlas