These treats aren't too sweet if you use unsweetened coconut. Alternatively, you can substitute 2 to 3 tablespoons of sweetened coconut for part of the unsweetened coconut and omit the confectioners sugar. If you don't have dark rum, use ½ to 1 teaspoon rum extract and make up the rest of the liquid (to equal the 1 tablespoon) with pineapple juice or a little water or almond milk. Recipe from Vegan Without Borders* by Robin Robertson/Andrews McMeel Publishing, LLC ©2014, reprinted by permission. Photos by Sara Remington.
Makes: 9 squares
Bottom Layer
1 cup dried pineapple pieces

½ cup raw cashews or slivered almonds

½ cup old-fashioned (rolled) oats

½ cup unsweetened shredded coconut

1 tablespoon confectioners sugar

1 tablespoon Myers dark rum or 1 teaspoon rum extract




and 2 teaspoons water or pineapple juice
Top Layer
8 ounces vegan cream cheese, softened

¼ cup confectioners sugar

1 tablespoon Myers dark rum or 1 teaspoon rum extract

1 teaspoon coconut extract (optional)

½ cup shredded coconut

½ cup fresh or canned pineapple chunks, blotted dry
To make the bottom layer, grease an 8-inch square baking pan and set aside. In a food processor, combine the dried pineapple, cashews, oats, coconut, confectioners sugar, and rum. Pulse to chop, then process until finely chopped and well combined. The mixture should hold together easily. Press the mixture evenly into the prepared pan. Set aside.
To make the top layer, combine the cream cheese, confectioners sugar, rum, coconut extract, if using, and ¼ cup of the shredded coconut in a food processor. Process until smooth and creamy. If the mixture is too thin, add a little more confectioners sugar and process again. 
Spread the topping mixture evenly over the bottom layer. Sprinkle the top with the pineapple chunks and the remaining ¼ cup coconut. 
Cover and refrigerate until ready to serve. Cut into 9 squares.
Note: Be sure you use dried pineapple pieces to make the bottom layer (not fresh or canned) or it will be too wet.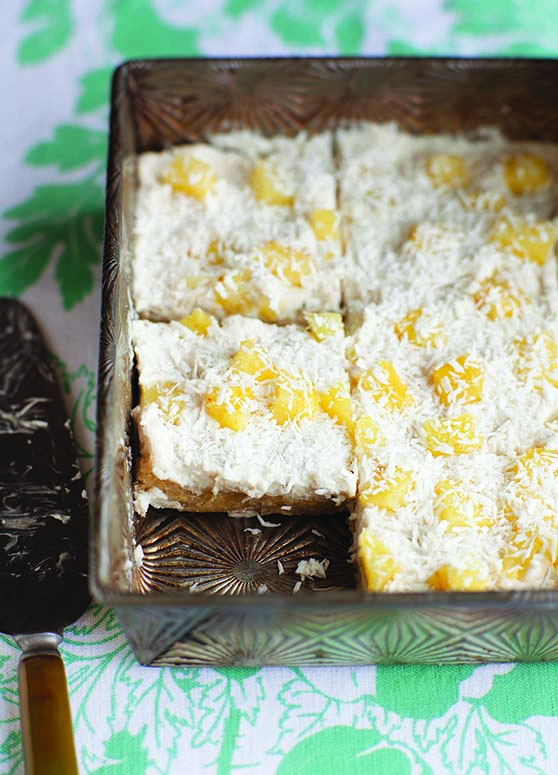 *This post contains affiliate links. If the product is purchased by linking through this review, VegKitchen receives a modest commission, which helps maintain our site and helps it to continue growing!