The dinner party is a staple of the season. September and October are just starting to blend into fall. You're enjoying the last of grilling season, chilly evenings and changing leaves. Whether you're throwing a party to welcome autumn's arrival or to celebrate a birthday or milestone, here's a handful of fresh, vegan ideas for your soiree.
Decor Galore
Invitations
Go green with email invitations. Paperless Post has beautiful fall favorites. And Greenvelope lets you customize with RSVP options and even embedded Google Maps.
Tablescape
Use a burlap table runner or placemats as your base. For a summer-gone-fall look, try a festive flower arrangement from FTD as the centerpiece and place soy candles on the runner, or opt for tall candlesticks to fill out the look.
For a deeper-into-fall feel, arrange pumpkins, squashes and other gourds with colorful leaves along the burlap runner. Or arrange edible bouquets -- include veggies and herbs like lettuce, kale and chives.
Dinnerware
As an alternative to your dinnerware, you might opt for a night of no dishes. Check out this line of single-use dinnerware from VerTerra. It's made entirely of fallen palm leaves and is 100 percent biodegradable, so it is very sustainable. 
Foodie Frenzy
Sometimes creating a dinner party menu that can satisfy everyone's taste buds, vegan or not, can be challenging. And you want to make sure there is enough variety for those with other dietary restrictions or preferences. Whip up a combination of food so everyone will have an option but don't overdo it. A few options will suffice.
Starters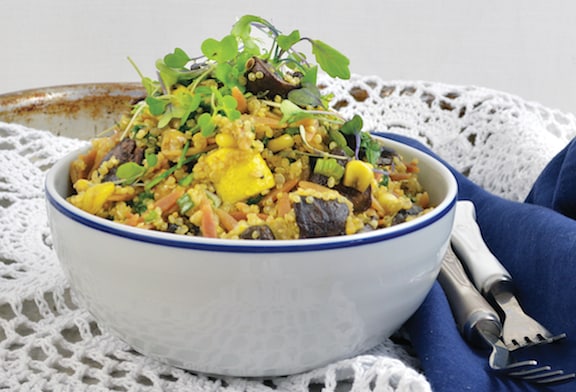 Start with a salad. This zucchini and mushroom pilaf is fall in a bowl. Sweet and savory all in a serving.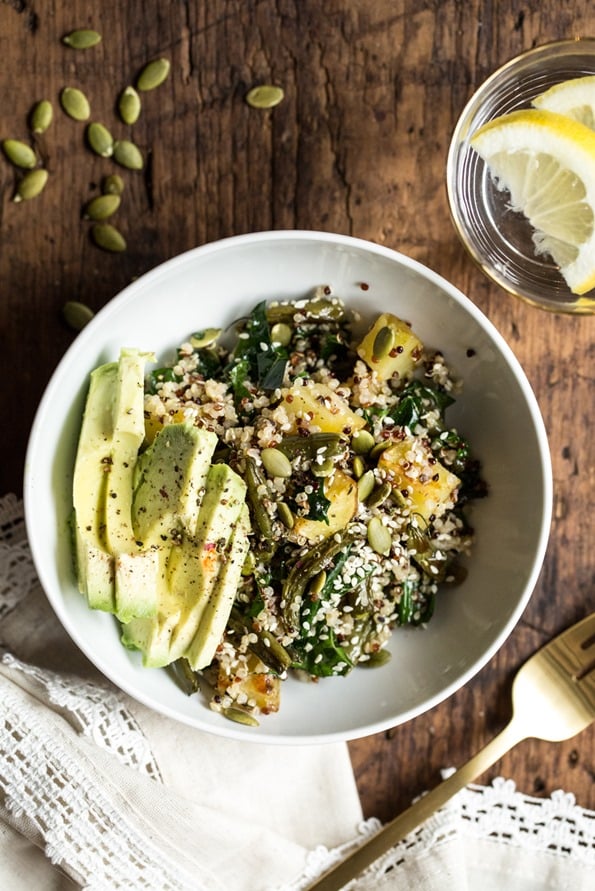 We also love the roasted winter salad bowl from Oh She Glows. Mix hearty potatoes and quinoa with green beans, kale, green onions, pepitas and avocado. It's festive, uses seasonal veggies and is filling for those who are both vegan and gluten free. Add a squash for a slightly different fall flavor.
Not quite ready to give up summer? Make up a black bean corn salsa, like this one. Serve it with crudites or corn chips.
Main Course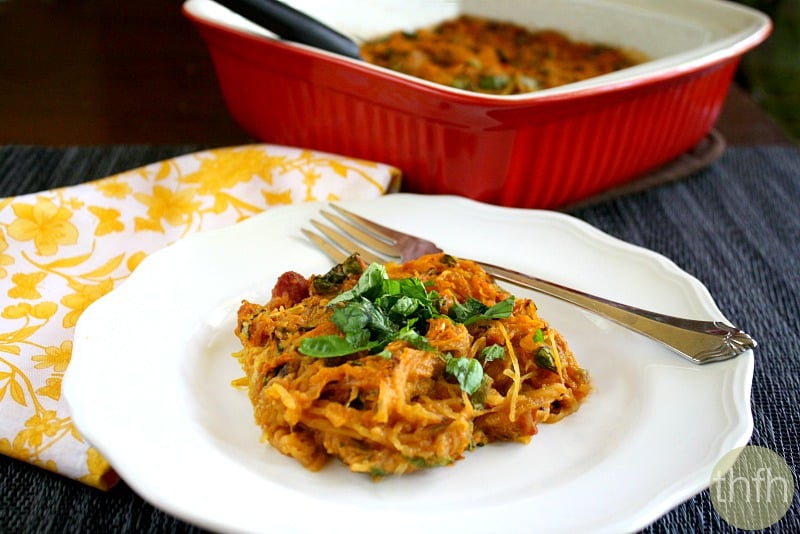 For the main course, consider a veggie burger as a last hurrah for the grilling season. Veg Kitchen presents five vegan burger recipes to chose from. Offer lettuce-wrap style burgers as an alternative to buns for those looking to limit carbs or avoid gluten.
If your grill is already cleaned up and stored for the season or you just prefer to keep it indoors, bake up something like this spaghetti squash casserole. Full of anti-inflammatory ingredients, it's paleo-friendly, vegan, gluten-free and delicious. This dish will suit almost everyone.
Dessert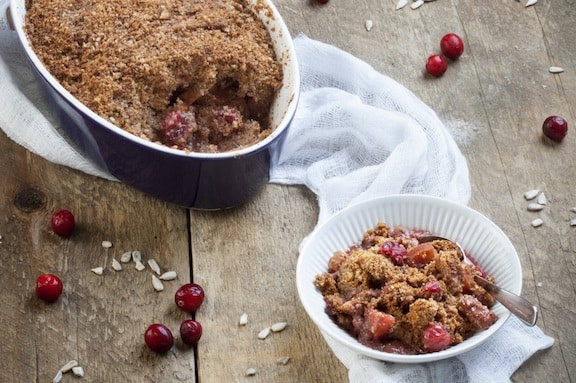 And now, for what everyone looks forward to most: dessert.
It's time to use those seasonal fruits for warm fall sweets. Consider this grain-free apple crisp. It's a crunchy combo of coconut sugar and nuts, with the dashing flavor of lemon and cinnamon on apples.
If you'd rather something chilled, try basil-cinnamon peaches for a delightful bridge between seasons.
Want to go decadent? Whip together a vegan classic cheesecake. The Food Network has a dairy-free, egg-free recipe that's made with tofu. It's just as creamy and delicious as the original recipe, so guests, vegan or not, will be sure to enjoy it.
Wine
Wine goes through a fining process which often entails the use of animal products. For this reason, not all wine is vegan. To find vegan selections, check out the wine recommendations from The Kitchn.
If you're making veggie burgers, pair them with a dry white wine like the 2009 Bonny Doon Ca' del Solo Albariño ($16). The spaghetti squash dish calls for a subtle red — a pinot noir or cab — we suggest Kawarau Estate Pinot Noir 2008 ($29). And for dessert, crack open a bottle of Sandeman Fine Ruby Port ($14).
Beyond all the planning and details, tablescape and delicious vegan food, be sure you sit back and enjoy the company. It's truly the life of the party.
Lauren Topor is a multimedia journalist, freelance writer and editor. She earned her journalism degree from Arizona State University and has been writing professionally for more than five years. Lauren covers food news and the fun stuff happening around Phoenix, AZ for Thrillist. She also writes about fitness and health as a contributor to MoveItMonday.