Prepared polenta offers great ways to add variety to the dinner repertoire. One of our long-time faves is pan-grilled polenta topped with a simple combination of black beans and spinach. In addition to being the main dish of a light yet satisfying dinner, this can also be a hearty warm appetizer.
There are a number of brands that offer tube polenta. You might find it in the Italian foods section of well-stocked supermarkets; near the flour products or gluten-free section of natural foods stores, and some Italian specialty markets. This kind of polenta is made only of cornmeal; some have a few herbs like basil to add a little flavor, but even unembellished it's surprisingly tasty. If you like using it, you'll love 8 Ways to Use Tube Polenta.
What's nice about this dish is that it offers such a nice blend of flavors and textures that the only thing you really need to complete the meal is a salad. On this occasion, we created an almost prep-free salad of mixed greens, grated carrots, grape tomatoes, and olives.
This might look a little fancy, but this polenta with black beans dinner definitely a meal you can make even when you come home dead tired from a long day!
Serves: 3 to 4 (3 servings of 4 polenta rounds, or 4 servings of 3 polenta rounds)
Time to table: 25 minutes
What you need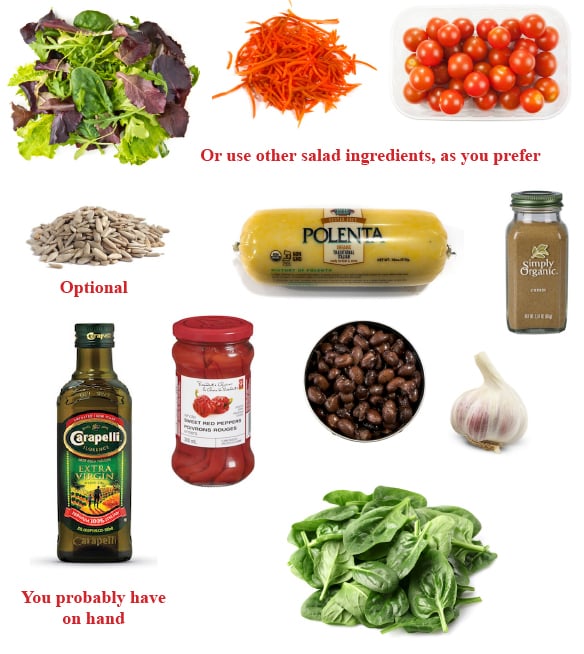 For the salad (vary if you'd like, or use what you have on hand)
Mixed baby greens, in bulk or 5 to 6-ounce package

Grated carrots, 1 bag

1 pint cherry tomatoes

Sunflower or pumpkin seeds, optional
For the polenta and black bean dish
18-ounce tube polenta

Garlic (1 head, you'll only use a couple of cloves)

15-ounce can black beans

6- to 8-ounce jar roasted red pepper (you'll use only part of it)

Ground cumin

5- to 6-ounce package baby spinach
What you probably already have on hand
Olive or other vegetable oil
What to do
1  Make a simple salad first, combining the greens, carrots, cherry tomatoes, and optional seeds. Or just make a salad with whatever fresh vegetables and greens you already have on hand.
2 Link to Polenta with Black Beans and Spinach if you prefer following a more formal recipe, or stay on this page and just follow these steps. First, cut a little bit off the puckered ends off the tube of polenta after removing it from its casing, then cut into 12 slices, each about ½ inch thick.
3  Heat a wide lightly oiled nonstick skillet or griddle. Arrange the polenta slices on it in a single layer. Cook both sides over medium-high heat until golden and crisp, about 8 minutes per side.
4  While the polenta is cooking, heat olive oil a smaller skillet or stir-fry pan. Add the garlic and sauté over low heat for a minute or so, until golden.
5  Add the beans, 1 or 2 chopped roasted pepper, and cumin. Stir together and cook over medium heat until well heated through.
6  Add the spinach, cover, and cook just until it wilts, 1 to 2 minutes. Stir the mixture together, season with pepper, and remove from the heat.
7  To serve, arrange 3 or 4 polenta slices on each plate as shown in the photos and spoon the bean mixture evenly over each serving. Serve the salad alongside the polenta dish.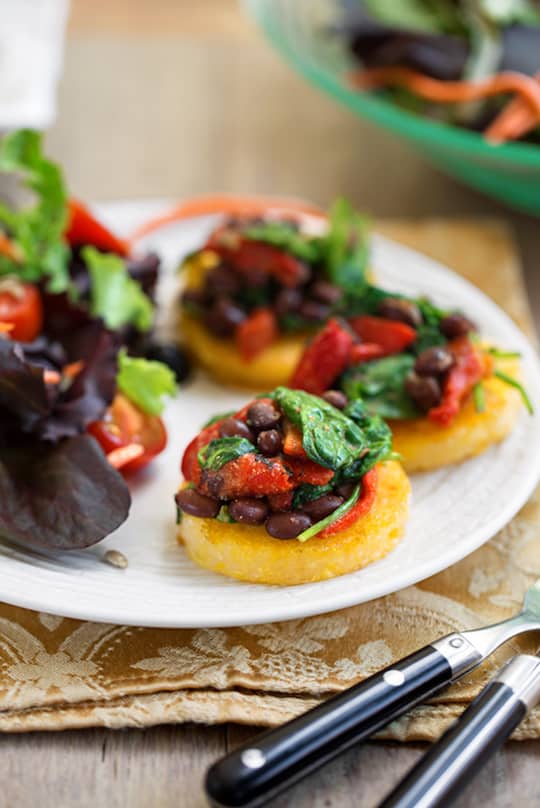 Photos by Hannah Kaminsky