January is spring cleaning time for the body. Getting plenty of fresh fruits and vegetables in your diet is highly recommended because they bring with them many health benefits. An easy way to consume lots of different plant-based foods in one sitting is to make smoothies. They take very little time to prepare and taste absolutely delicious.
For your most basic smoothie, you need one cup of fruits, one cup of vegetables and one cup of liquid. You can then add in other ingredients such as nuts, seeds and super-food powders to boost the flavour and nutritional content of the beverage.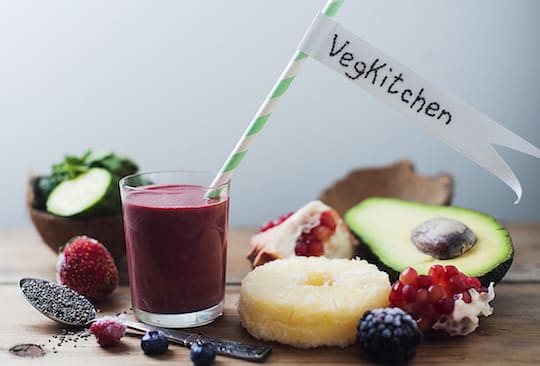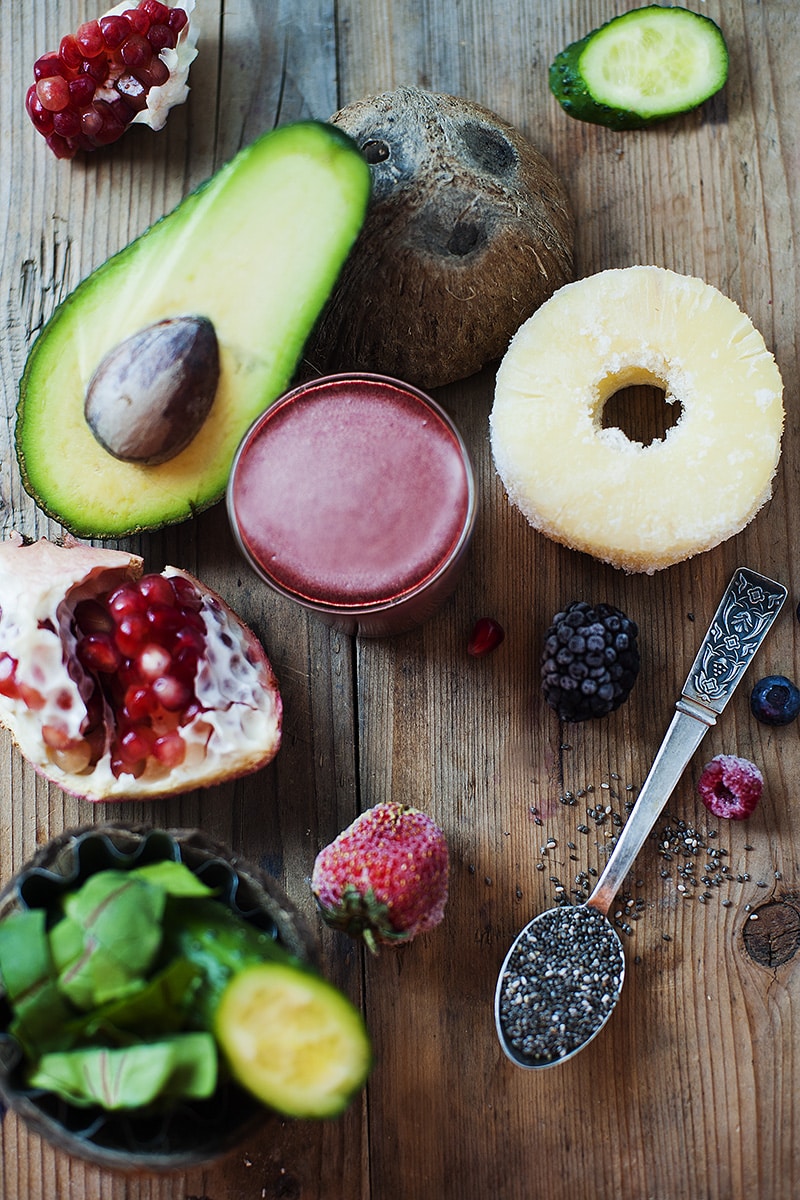 This smoothie recipe makes use of the following ingredients:
½ cup pomegranate seeds – this unique fruit is a rich source of punicalagins, which are powerful antioxidants that reduce free radical damage in our bodies. Pomegranate is an anti-inflammatory, may help fight prostate cancer and increases exercise performance.
½ cup frozen mixed berries – strawberries, raspberries, blackberries & blueberries are all high in vitamin C. This vitamin is needed for a wide range of processes in the body including wound healing, gum health and immune support. Using frozen berries helps to give the smoothie a thick milkshake like consistency.
½ cucumber – did you know that despite their firmness, cucumbers are actually made up of 96% water? This makes them a great food to eat when you are thirsty. Cucumbers have a cooling effect on the body and are quite mellow in flavor, making them a perfect ingredient for smoothies.
1 cup Swiss chard – this leafy green vegetable is the best source of vitamin K that there is. A 1 cup serving provides you with more than 3 times your daily requirement. Vitamin K is required for bone, tooth and brain health. In place of Swiss chard you can also use spinach or kale.
½ cup frozen pineapple – thanks to the large amounts of natural sugars that it contains, pineapple gives this smoothie a wonderful sweetness and makes it much more palatable. Pineapples are the only source of a compound called bromelain, the consumption of which can reduce inflammation, improve gut health and prevent cancer.
½ avocado – if there is one food that you want to start eating more of, it is avocado. It's actually a fruit and not a vegetable, and a fantastic source of monounsaturated fat, dietary fiber, potassium, vitamin E and magnesium.
1 cup coconut water – you need to add a liquid to smoothies, so that you can actually drink them. Coconut water is one of the best options. Unlike ordinary water, it is rich in electrolytes that replenish salts in the body. Using chilled coconut water will keep this smoothie nice and cool.
1 tablespoon chia seeds – finally, some seeds to boost the protein content of the smoothie. Chia seeds don't have an overpowering taste which is why they work so well. In place of them you can also use flax or hemp seeds.


Preparation
Preparing this smoothie couldn't be easier. Simply pour the coconut water into a blender, add in the rest of the ingredients and blend for 15 seconds or so. If you don't already have one, there are lots of great smoothie blenders to choose from.
Then pour into a glass and enjoy!
Contributed by Veronica Shah.