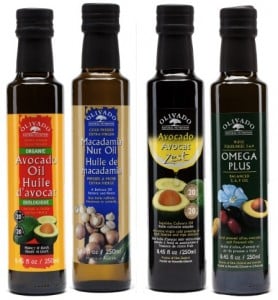 One of the perks of being an extremely famous (LOL!) cookbook author is that companies start sending you all kinds of cool books and food products to review. I will only review and endorse products I like, and this is certainly true for the quartet of delectable Olivado Avocado Oils I received a couple of months ago.

Olivado oils are made of avocado oil, mainly using avocados grown in New Zealand. Their avocado oils are cold-pressed to retain much of the substantial nutritional goodness of the fruit, which include an abundance of good fats that assist in balancing the body's cholesterol level, and lots of vitamin E. For a more in-depth explanation of the production of Olivado Oils, here is further information on Olivado's site. Here's a great rundown on the nutritional benefits of avocado oils.
In addition to pure avocado oils, Olivado also produces blends and nut oils. Macademia Nut Oil was one I sampled, as well as Avocado Zest, Extra-Virgin Avocado Oil, and Omega Plus Blended Oil. I see on their products page that there are all sorts of tempting flavor-infused oils, including Chili & Bell Pepper, Lemon, and Rosemary.  The avocado oils I have been using are green and fruity, not surprisingly, somewhat akin to extra-virgin olive oil, but a bit more delicate. They're equally good in salads and for sautéing; for the latter, these oils have a very high smoke point, which is nice when you want to cook veggies quickly to retain their color and flavor.
It's obvious from the products and the company's literature that they take great pride in their well-crafted oils. As a huge fan of avocados, I've enjoyed all the avocado oil variations as well as the macadamia nut oil. If I had to choose a favorite, it would be the Avocado Zest, which is infused with aromatic lemon. I can honestly say that I have never had a more delicious oil on salad. If you use only this on salad, you need nothing else, not even salt.
Olivado's site lists Where to Buy (Canada)and  Where to Buy (U.S.) and they also have an online Canadian Store, U.S. Storeand U.K. Store. I just noticed that they offer an avocado skin repair cream, which I'm very tempted by. I've enjoyed using Olivado oils and look forward to continuing to do so—especially the yummy Avocado Zest!