Vegan chocolate muffins featuring pumpkin might seem a little odd at first, but these flavors are surprisingly compatible.They're equally good with any other orange winter squash, especially butternut. These just could become your favorite fall-winter muffin to serve with tea or nondairy hot cocoa. 
Makes: 1 dozen
2 cups light spelt or whole wheat pastry flour
½ cup natural granulated sugar
2 teaspoons cinnamon
1 to 2 teaspoons ground ginger, to taste
2 teaspoons baking powder
½ teaspoon baking soda
1 cup smoothly pureed cooked sugar pumpkin or other orange winter squash
(see Note), or canned pureed organic pumpkin
2 tablespoons maple syrup
2 tablespoons safflower oil
¼ cup orange juice, preferably fresh, or as needed
1 cup vegan chocolate chips or mini-chips
⅓ cup finely chopped walnuts or pecans for topping, optional
Preheat the oven to 350º F.
Combine the first 6 (dry) ingredients in a mixing bowl and stir together.
In another bowl, combine the pumpkin or squash puree, syrup, oil, and juice and whisk together until smooth.
Make a well in the center of the dry ingredients and pour in the wet mixture. Stir together until completely mixed. If the batter is too stiff to mix, add a small amount of additional juice, but it should remain a thick batter. Stir in the chocolate chips.
Divide the batter between 12 foil-lined muffin cups in a muffin tin. Bake 20 to 25 minutes, or until a knife inserted into the center tests clean. Let cool to room temperature before serving.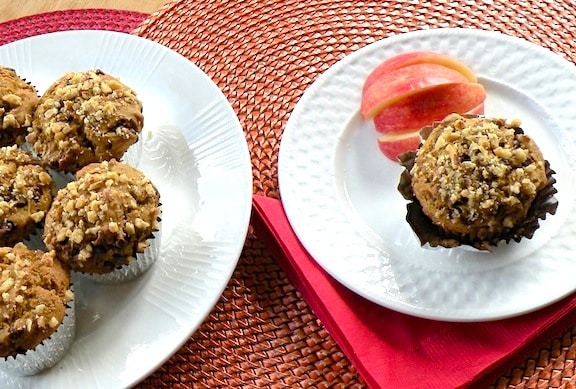 Notes:
See instructions on how to easily cut squash in our Vegan Minute video. The video instructions are for butternut squash, but they apply to any sort of hard winter squash, including sugar pumpkin. Bake for a bit longer than instructed — you should be able to pierce through the squash easily with a knife.
To make these gluten-free, simply substitute your favorite gluten-free flour mix for the other flour. Omit the 2 teaspoons baking powder and substitute 1 teaspoon xantham gum.
Here are lots more recipes for delicious vegan muffins.